Prince Al-Waleed bin Talal, the founder and chairman of Kingdom Holding Company, a Saudi conglomerate, is an affluent man worth nearly $16.5 billion. The grandson of Abdulaziz, the first king of Saudi Arabia, is one of the wealthiest individuals in the world and the most public member of the Saudi royal family. He is also a self-titled "calorie counter" with a fixation on fitness and fortune. With large stakes in hotels, real estate, and equities, the world is his oyster, and an expensive one at that! He may not be grinning with a crown on his head, but except for the crown, the 68-year-old tycoon truly has it all. From living in opulent palaces, traveling in palatial private jets, and owning everything extravagant, the Menlo College in California graduate aptly calls himself the Warren Buffett of Arabia.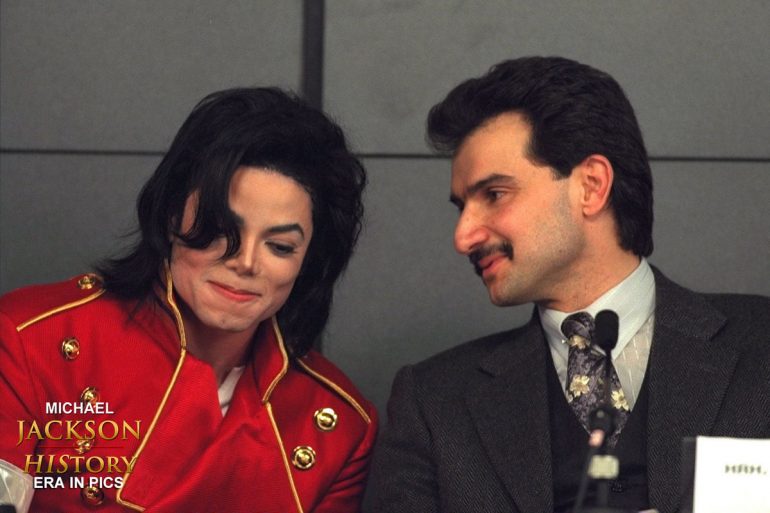 Early years of a modern Saudi Arabian prince-
After completing a master's degree with honors in social science from the Maxwell School of Citizenship and Public Affairs at Syracuse University in 1985, Prince Al Waleed returned to Saudi Arabia amidst the oil boom. Despite being of royal descent, it wasn't a bed of roses, nor did he get successful with a press of a button. Operating from a small, four-room cabin in Riyadh with $30,000 start-up money provided by his father, 25-year-old Al Waleed formed Kingdom Establishment.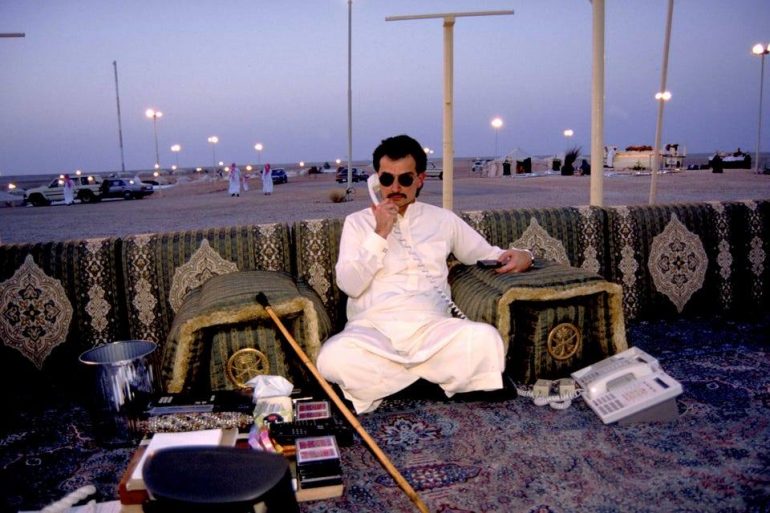 He first tasted success after collaborating with a South Korean construction company in 1982 for an $8 million job to build a bachelors' club at a military academy near Riyadh. "All the money I used to get from this construction I would plow back into real estate, and in the stock market, both." In the coming years, he focused on established brands going through hard times, and by 1989 his net worth was $1.4 billion.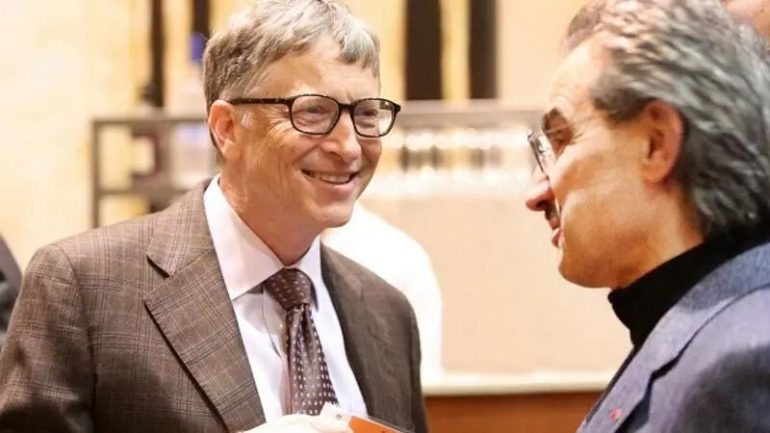 Investments that made Al Waleed a man worth $16.2 billion-
Al Waleed always favored high-growth, high-risk companies, which explains his investments in Canary Wharf, Four Seasons Hotel Group, and News Corporation in the early 1990s. Everyone knows of his stakes in Citibank, Apple, TimeWarner, Motorola, 360buy, AOL, eBay, Euro Disney, and is the second largest owner of Twitter (Kingdom Holding invested $3.4 billion in global equities and depositary receipts since 2020).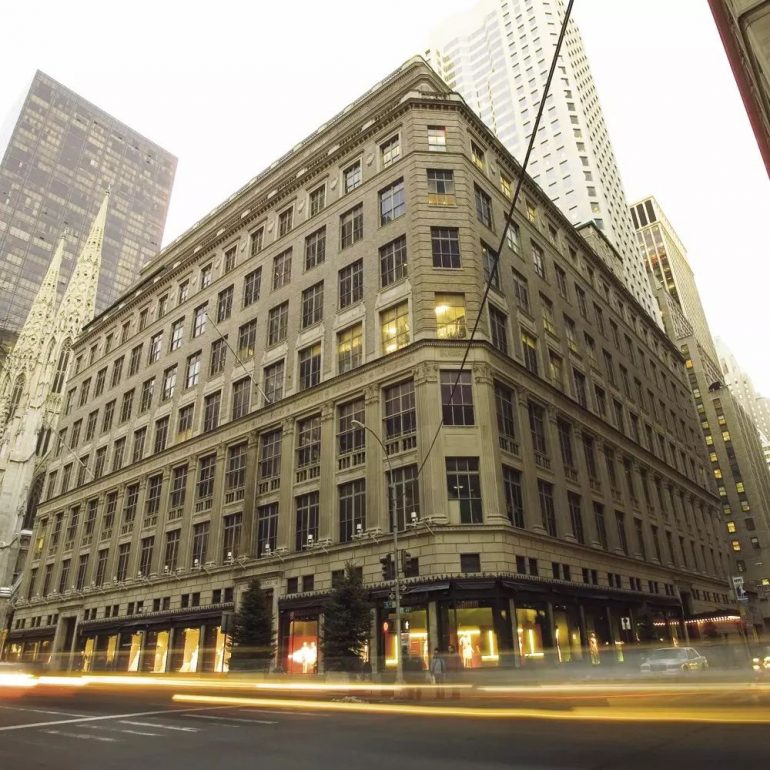 It is lesser-known that Al Waleed purchased a 10 percent stake in Saks Fifth Avenue for $100 million two decades ago, leading to a flagship store opening in Riyadh.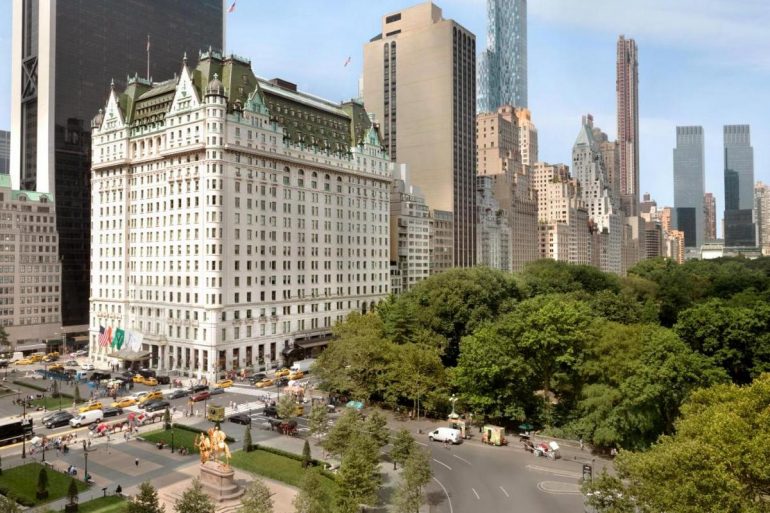 Per Vanity Fair, Al Waleed is especially fond of his extensive collection of luxury hotels. Besides George V, he owns the Savoy in London, and the Plaza, in New York. The Four Seasons Hotels and Resorts Company is co-owned by billionaire Bill Gates.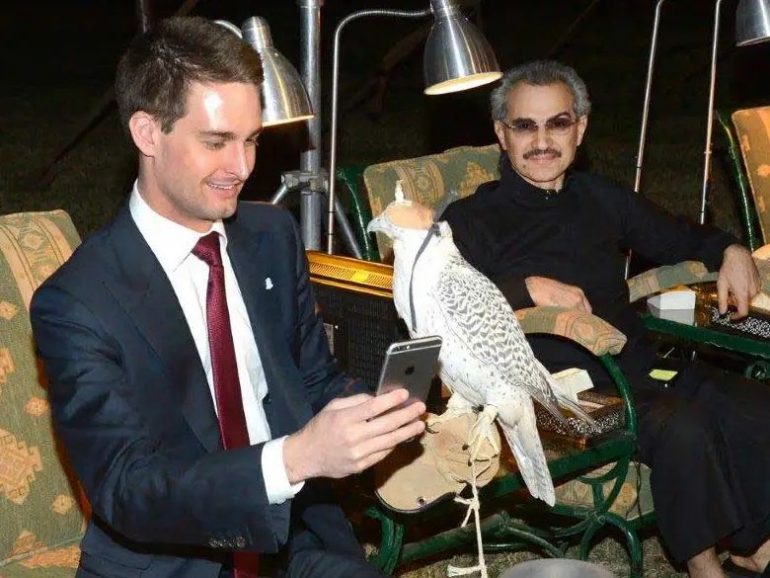 Al Waleed holds a ten-percent stake in Euro Disney S.C.A which owns Disneyland Paris and a substantial share in Fairmont Raffles Holdings International, another collection of 130 properties in 27 countries. Still, it wouldn't be wrong to say he lives in palaces so luxurious the hotel empire falls short.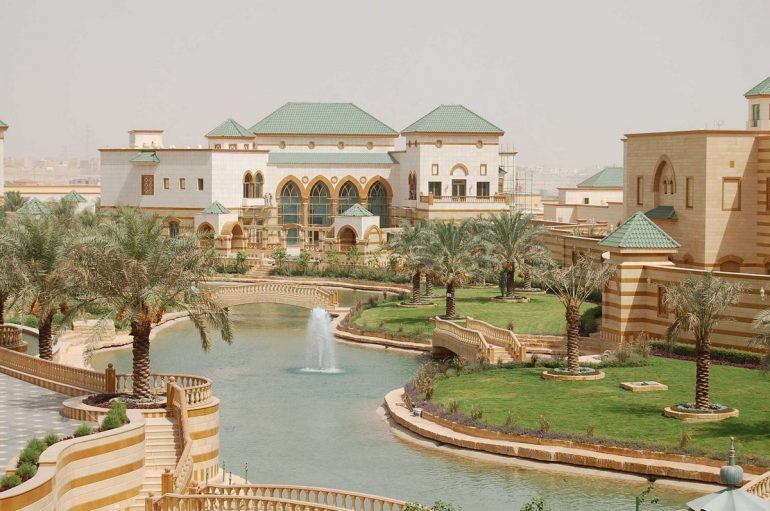 Not one or two, but this uncrowned prince owns three stunning palaces-
You have at least three palaces when you are as regal as the grandson of the first king of Saudi Arabia. The cousin of Crown Prince Mohammed Bin Salman lives in an ultra-extravagant 435-room palace in central Riyadh. The $130 million sand-colored structure is aptly called Kingdom Palace. It is decked with 1,500 tons of Italian marble and 250 TVs (which still leaves half the rooms without television).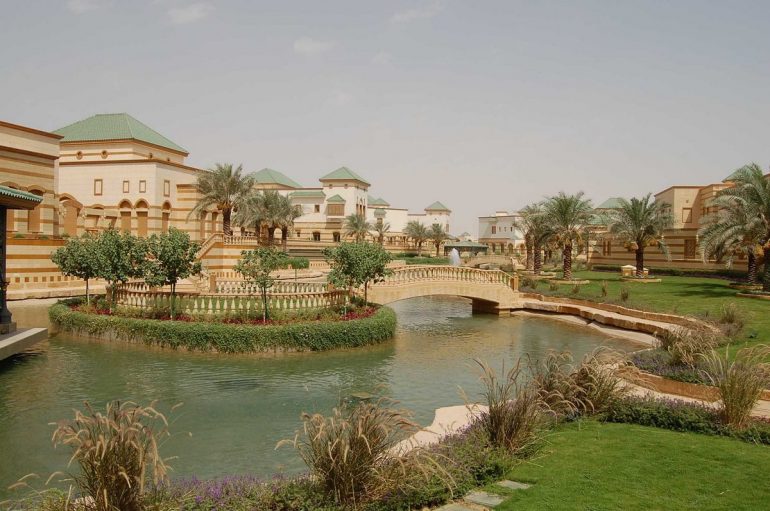 Four palace kitchens with well-trained staff can stir up delicacies for 2000 people on an hour's notice in Arabic, Continental, and Asian cuisines. The palatial dwelling of the founder of Kingdom Holding Co. flaunts a lagoon-shaped pool and a 45-seat basement cinema.
The second palace is Kingdom Resort, spanning 500,000 square feet in central Riyadh. The highlight of this luxurious property is not one but three lakes interspersed with gardens. The under-construction Kingdom Oasis may be smaller than the predecessors but will be incredibly impressive, spreading 4,000,000-square-foot featuring an expansive 17-acre lake and a private zoo.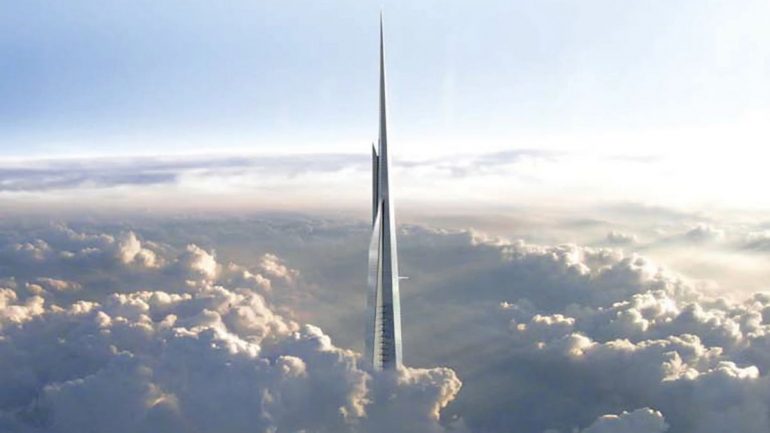 In addition to palaces, the Arab billionaire planned a residential development on 4,000 acres of land on the outskirts of Riyadh. This development would include the tycoon's Kingdom Tower, with a budget of $10 billion. It was set to be taller than four Empire State Buildings stacked upon each other standing 3,281 ft tall. The stalled project, now known as Jeddah Tower, would've been the tallest in the world if completed.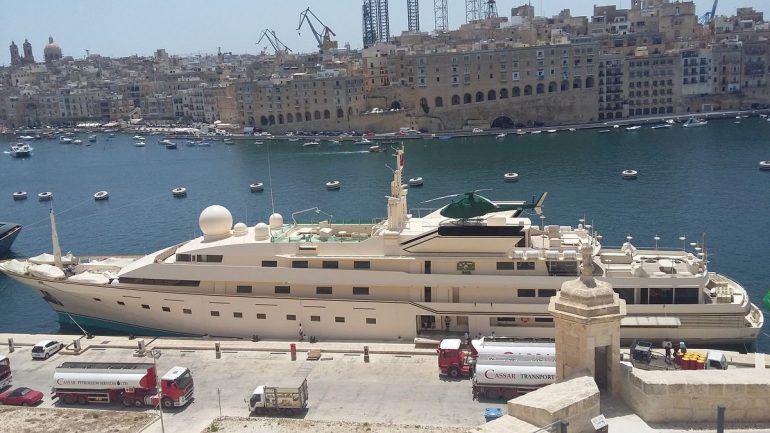 He sails the high seas in style aboard $325 million Kingdom 5KR-
Not believing in the less is more philosophy, the Arabian Warren Buffet doesn't let extravagance leave the room, be it his palace in Riyadh or on the sea. The 282-foot luxury yacht Kingdom 5KR is a lavish 1980 Classic Yacht named after the investment company Kingdom Holdings, his lucky number 5, and the initials of two of his children. Bought from Donald Trump, the luxury vessel accommodated 22 guests in 11 staterooms, serviced by 31 crew members.
Designed by Luigi Sturchio, the lush walls come paneled with chamois leather and bird's-eye maple. The bathrooms looked majestic, adorned in gold and onyx. The beautiful boat boasts a saloon, office, sauna, and three elevators to access different areas. The bountiful ship also includes a helideck, a cinema, and an 800-film library.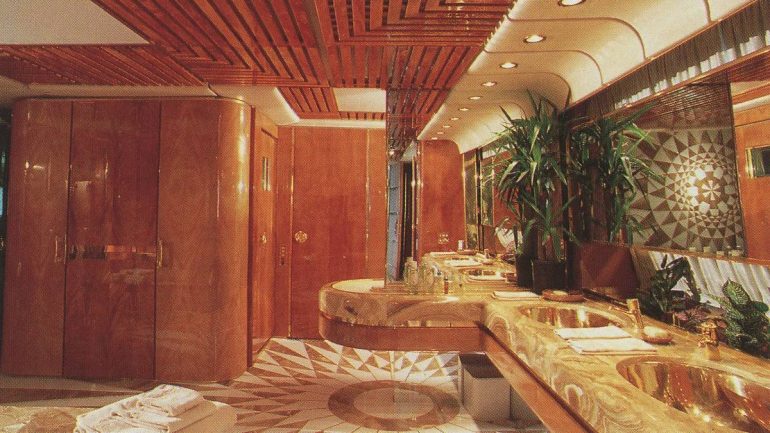 Add to all the amenities, a well-equipped hospital complete with an operating room ensuring the royal's health is never at risk. Even if ever stranded Al-Waleed and his crew would be well-fed and looked after as six mammoth refrigerators carry a three-month food supply for 100 people. Is there anything safer than being in the company of a prince?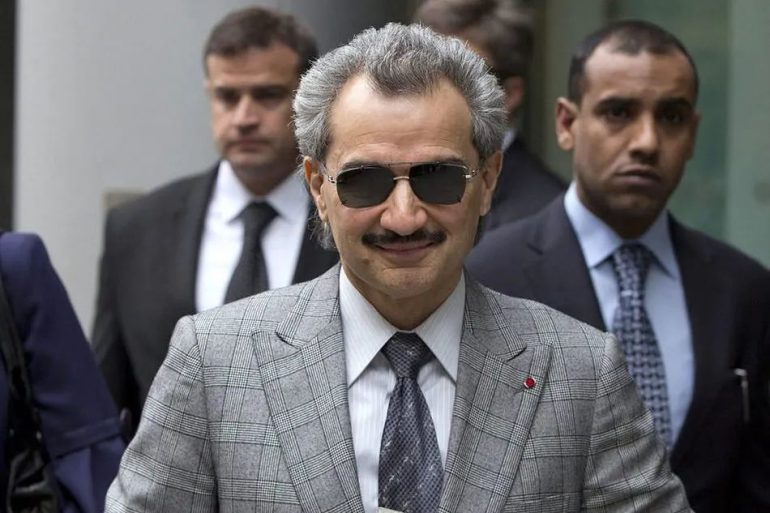 He travels with a massive entourage-
With a 26-member posse, it is not the most enormous entourage in the world, but it sure is attention-grabbing! Not only does this entourage go on yachts, events, and holidays but also for communal dinners. The list includes a private physician, an assistant manager of his palaces, a private assistant, an executive assistant, personal affairs manager, two personal affairs assistants, a manager of the protocol department, a manager of travel and external affairs.
The list continues with assistant manager telecommunications, private affairs for the Princess, her beautician, athletic trainer, two security details, associate head of the Audio-Visual Department, the Prince's hairdresser and two companions.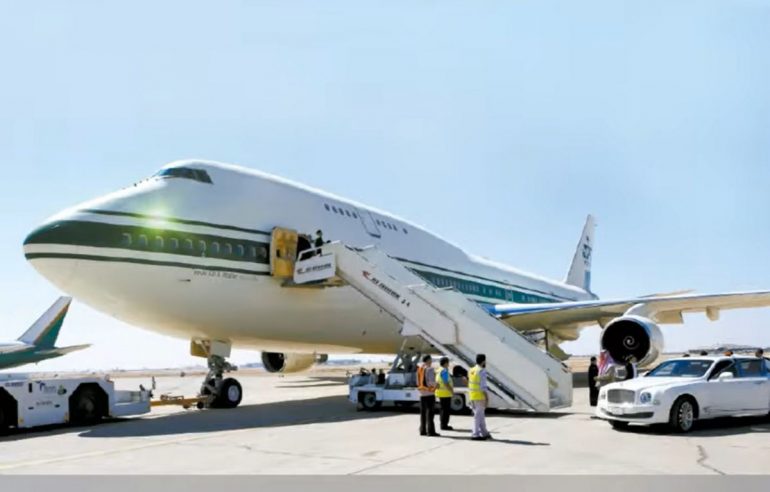 The tycoon travels in an opulent Boeing 747-
If affluence were a person, it would reside in Saudi Arabia; if it had a name, it would be called Prince Al-Waleed bin Talal. Among his many jaw-dropping assets is one "Flying Palace," a private jet so lavishly created it would put 5-star hotels to shame.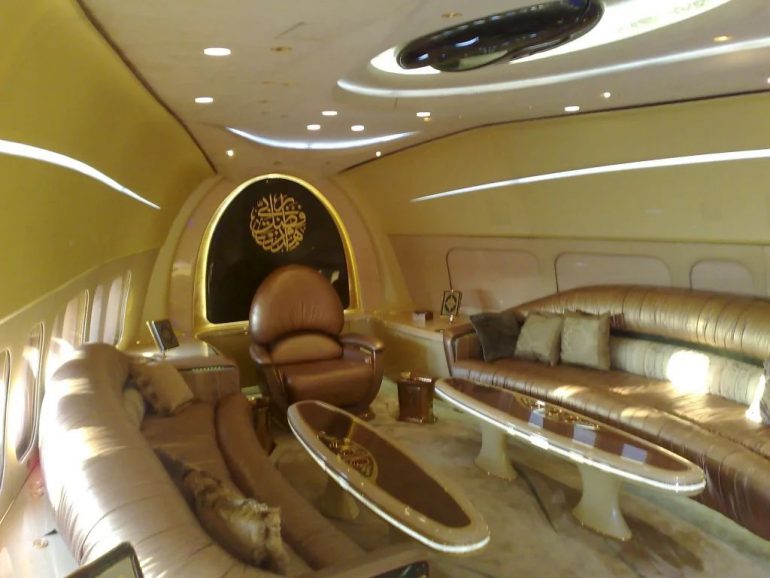 Even billionaires have master suites with king-sized beds, private bathrooms, and showers. But how many can boast a full-sized dining room and kitchen capable of serving gourmet meals 40,000 feet in the air?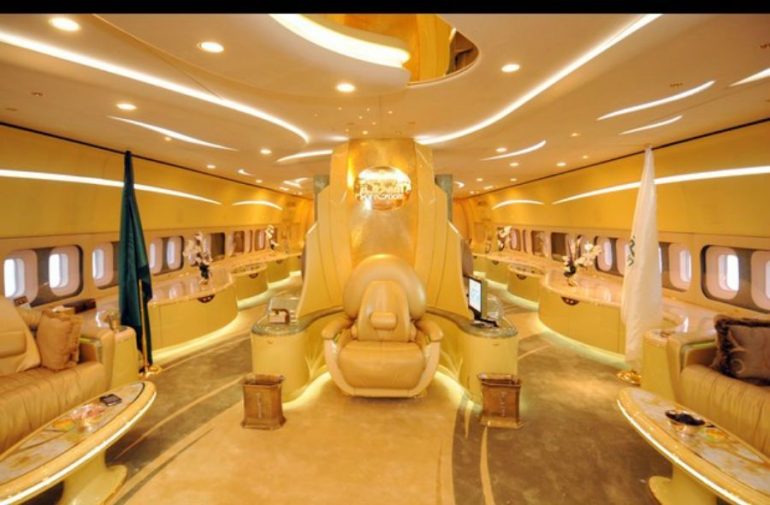 The Boeing 747 has a dedicated prayer area with an electronic system that always points toward Mecca.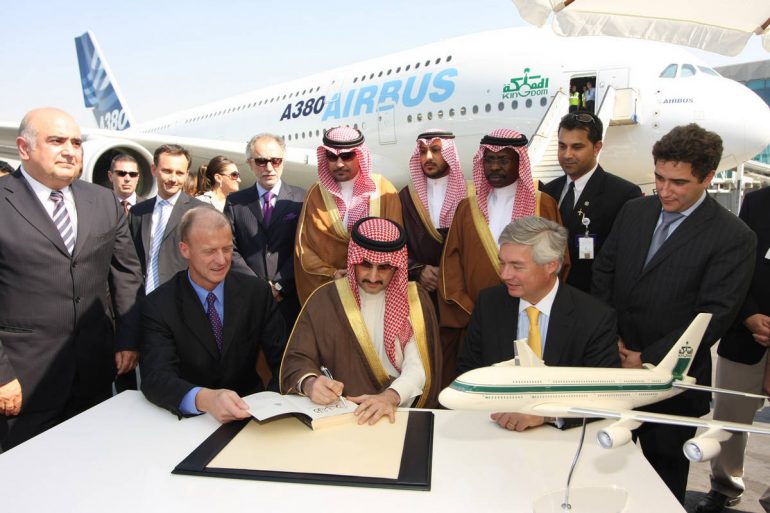 Such extravagance fell short for the Saudi Arabian businessman, for he booked a 239-feet long aircraft for $320 million in 2007. Imagine the power of his wealthy where the largest commercial aircraft, the Airbus A380, became a personal jet! Al-Waleed spared no expense in donning the aircraft that could accommodate 853 passengers, most magnificently.
After customization, the A380 was a product of $500 million, boasting several private suites, a concert hall, a Turkish bath, a garage for luxury cars, a prayer room with electronic mats that automatically turned towards Mecca, and a dining table that could seat 14 people.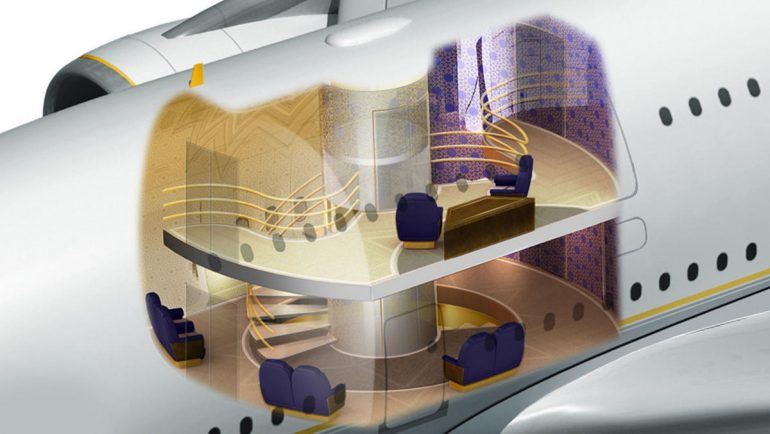 It was later reported that the Prince never took delivery of the aircraft, and matters remained unclear.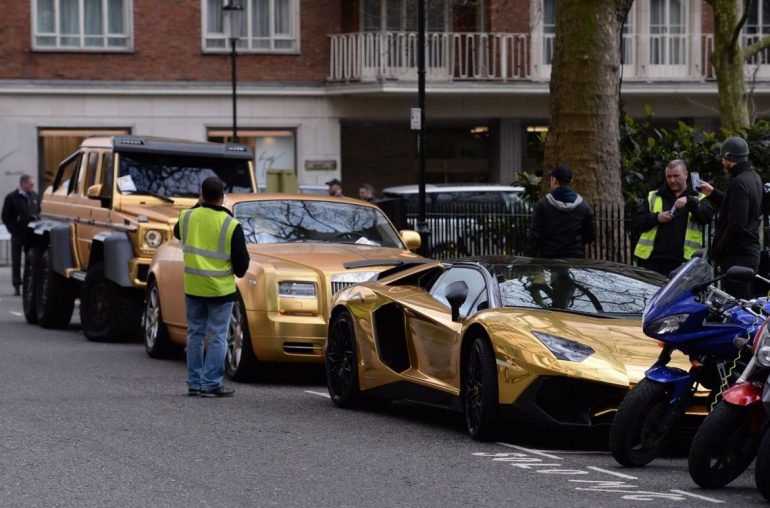 The Saudi business magnate owns a massive fleet of cars-
Al Waleed bin Talal owns nearly 300 cars in true royal style, including a blue Rolls-Royce for his daughter. He also possesses a rare Lamborghini Veneno Roadster, one of only nine units ever built. Bugatti Veyron, Ferrari F12 Berlinetta, Pagani Zonda, Koenigsegg CCXR, Bentley Continental GT, and McLaren P are also part of his extraordinary fleet. Many believe Alwaleed bin Talal Al Saud is the wealthiest member of the family as the net worth of the wealthy Crown Prince Mohammed bin Salman has not been disclosed.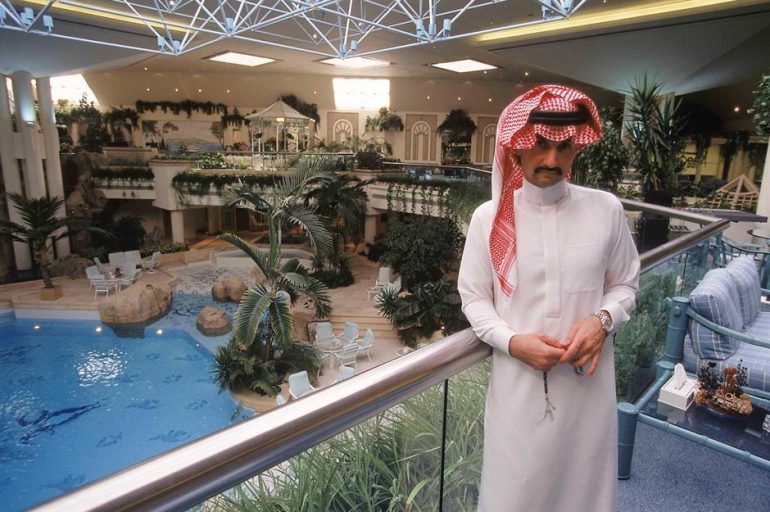 He has his own animal farm with lakes and a mini-zoo –
Al-Waleed's love for animals is displayed in a majestic 120-acre "farm and resort" on the city's outskirts. Its sprawling expanse boasts a miniature Grand Canyon, a captivating mini-zoo, luxurious horse stables, and not one, but five enchanting artificial lakes, all set against the backdrop of a seemingly endless emerald oasis.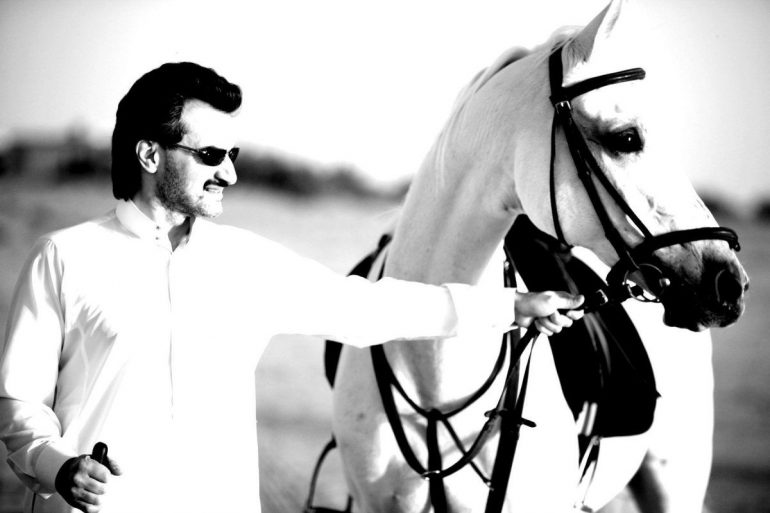 The Prince, an undisputed patron of extravagance, spared no expense in ensuring the best for his wondrous estate, with lavish sprinklers working tirelessly to maintain the lush greenery of this paradise.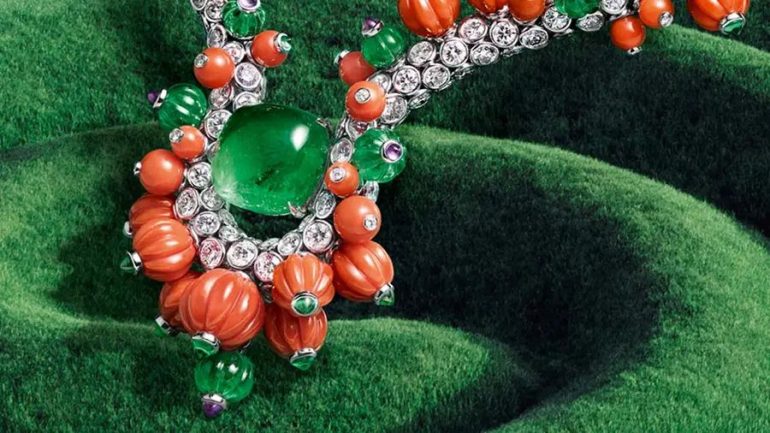 Jewels that would make a crown-wearing queen envious-
Prince Alwaleed's Riyadh palace houses magnificent jewels, and that is an
understatement. A Forbes journalist shared an anecdote from his visit to the Prince's palace, where the floor was lined with a whopping 50 wooden boxes, each containing a lavish jewelry set fit for a king. The most jaw-dropping was a $40 million Haute joaillerie featuring a massive diamond and emerald with three emeralds the size of eggs dangling from the center, with earrings and a ring to match. The valuable asset totaled 200 carats. "It's an investment. I paid $50 million for jewelry worth $150 million," he said. Alwaleed's jewelry collection is worth more than $700 million.
Note – As of writing this article according to Forbes Prince Al Waleed is worth $18.7 billion. According to the Guardian, King Charles is worth $2.3 billion.
Source link