When a man is rich like Jeff Bezos, it doesn't mean he has $114 billion stockpiled in his vault. It is his assets that make his net worth believable. The Amazon co-founder is the proud owner of a boat worth half a billion dollars. Oceanco masterpiece, the 416-foot sailing megayacht Koru has finally completed sea trials and was handed over to her affluent owner. According to BOATPro, she departed the Oceanco shipyard on April 6th, traveling at 16 knots on her maiden voyage to Gibraltar.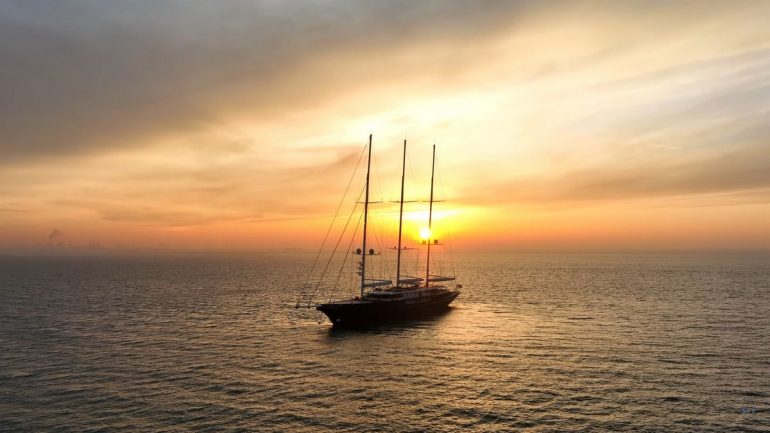 In February, the world's largest sailing yacht and the largest yacht built in the Netherlands underwent sea trials. Koru is expected to be joined by her support vessel, Abeona, the largest in the world of its kind, built by Damen Yachting.
The luxury ship's most recognizable feature is the three huge masts. However, drone footage revealed some exciting features like three enormous decks, two dip pools, a striking navy hull with red bootstripe, and a white superstructure decked out in varnished wood. The cherry on the cake is the long bowsprit and a classic canoe stern, making Koru genuinely breathtaking.
Where will the Amazon co-founder take his mammoth of a ship first?
The world is your oyster when you are a man worth nearly $114 billion. Still, we suspect the billionaire may steer megayacht Koru towards his $78 million beachfront home spread across 14 acres in Maui, Hawaii, instead of St. Barths or St. Tropez. Bezos and Sanchez's new purchase is a posh holiday home that only lacks a stellar ship to make the vacation absolutely incredible. A source close to the couple said, "Jeff and Lauren love Maui, have a home on the island, visit frequently, and want to be a part of supporting the local community."
Source link