Jeff Bezos' $500 million sailing megayacht Koru has finally begun sea trials, which takes the 127-meter luxury vessel a step closer to becoming the world's second yacht sailing yacht, after Andrey Melnichenko's Sailing Yacht A. A YouTube video posted by Dutch Yachting shows the megayacht going through the preliminary set of tests on the first day of its sea trials. Sea trials of a newly built ship are important to ensure the overall safety of the ship and detect issues before the final handover. The video begins with footage of the vessel being towed out to open waters before sunrise on a misty morning. Subsequently, megayacht Koru then starts with the battery tests under its own power, doing 180-degree turns and conducting turning circle tests. Interestingly, this is the first time the gigantic luxury vessel has been captured on video moving with the help of its own powertrain.

https://www.youtube.com/watch?v=/nmXGLBahY-M
While sailing yacht Koru's three huge masts were steeped last summer when it was taken out of its dry dock, the sails are yet to be unfurled, which is expected to be done over the next few days during its sea trials. With the sails unfurled, the three-mast schooner will be a sight to behold. The YouTube video also includes drone footage of the luxury megayacht, which gives us a glimpse of some of its amenities that are visible on the outside. The vessel boasts three enormous decks and at least two sizeable dip pools. Koru features a navy hull with red bootstripe and a white superstructure decked out in varnished wood. Its beautiful shape is characterized by a long bowsprit and a classic canoe stern.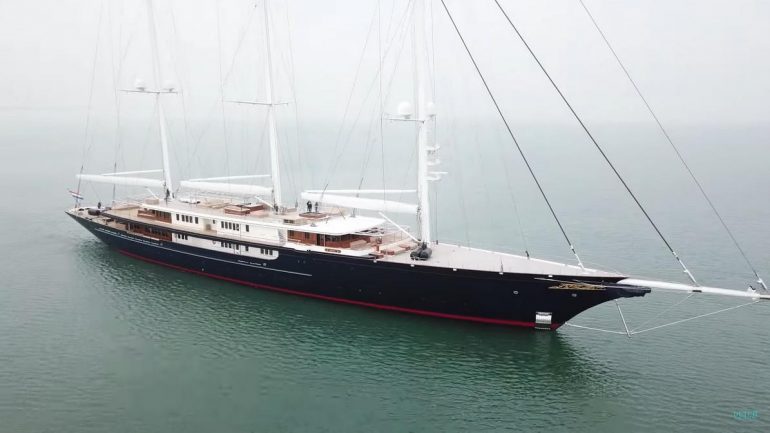 Initially identified as Oceanco Y721, the 127m sailing yacht was christened Koru at the beginning of this year. It's a Maori word that translates to 'new beginnings'. The vessel was engulfed in controversy in 2021 when it emerged that the historic De Hef bridge would need to be dismantled to allow the masts to pass under. However, Oceanco decided to transport the vessel without the masts stepped, helping the bridge remain untouched.
The majestic superyacht is expected to complete its sea trials soon and delivered to her billionaire owner later this year. Koru also has an equally interesting support vessel. It is named Abeona after the Roman goddess who presided over the departure of travelers. Second. Built by Damen Yachting, the vessel measures 75 meters, making it the largest custom-built shadow yacht. The support vessel completed its sea trials in December 2022 and was recently handed over to the Amazon founder.
Source link