Make way for the Van Cleef & Arpels Planétarium automaton that brings the Sun and many of the planets of its system closer to us in all its dazzling glory. Mercury, Venus, and the Earth – accompanied by the Moon, Mars, Jupiter, and Saturn engage in a choreographed ballet of baubles. Looking like lovely, gem-clad lollipops in sync, these planets are distinguished by their impressive dimensions (50cm high and 66.5cm diameter). The marvel is not only in the beauty of the Van Cleef & Arpels Planétarium automaton but also in its mechanism. Each heavenly body moves at its actual rotation speed, carrying out a complete orbit in 88 days for Mercury, 224 days for Venus, 365 days for the Earth, 687 days for Mars, 11.86 years for Jupiter, and 29.5 years for Saturn.

https://www.youtube.com/watch?v=/aSa_MJ8NGrs
Think that is applaud-worthy? The CompliTime team helped Van Cleef & Arpels develop the dramatic addition that makes the automaton truly come to life, creating an unforgettable visual of the gemstone-covered planetarium. The mechanical movement of great complexity is accompanied by an animation allowing the dance of the orbs to be replayed at will.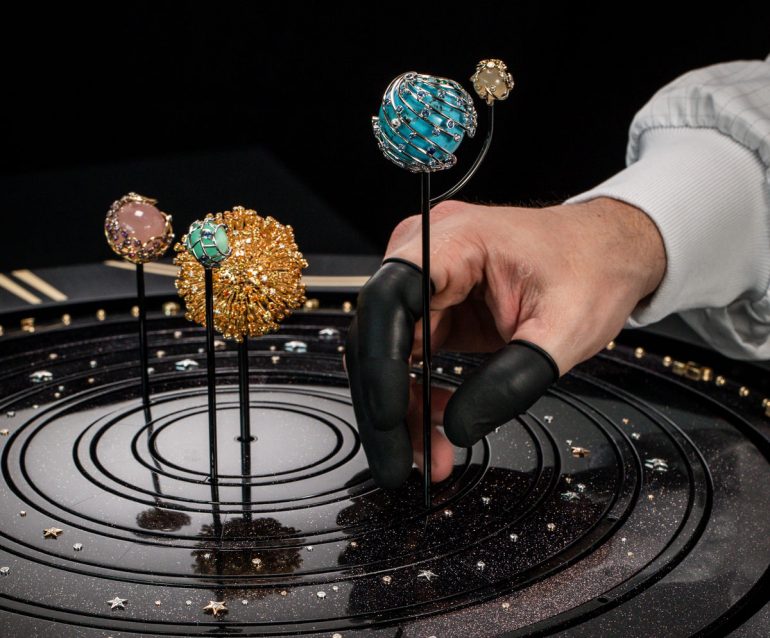 The most captivating element is the appearance of a gold shooting star studded with diamonds, emeralds, and Mystery Set sapphires from a small door to travel the dial to indicate the hours. This sweet moment is made special with an accompanying melody created in partnership with Michel Tirabosco, a Swiss musician and concert artist.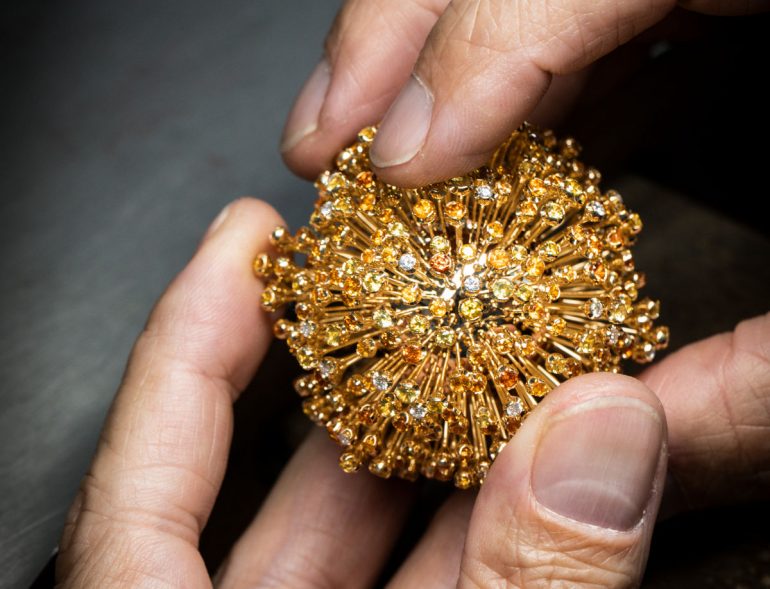 While the drama unfolds on top, the base is where several dials follow one another. The base conceals dials for hours/minutes, day/night, and a perpetual calendar indicating the day, month, year, and power reserve. The cynosure of the Planétarium automaton is undoubtedly the Sun bursting in yellow sapphires, spessartite garnets, and diamonds on 500 gold stems. A chrysoprase bead surrounded by white gold and diamonds represents Mercury.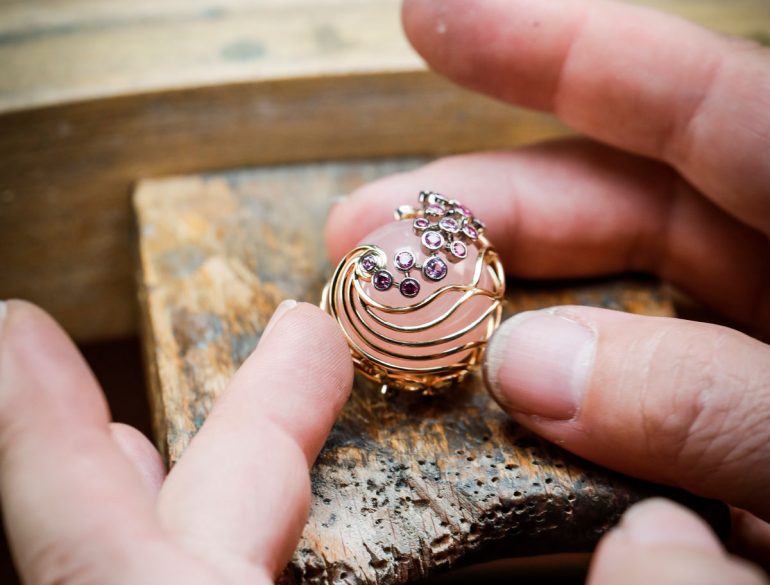 Constructing Venus was achieved by combining the finest shades of rose quartz with those of yellow and white gold and pink sapphires. Earth unsurprisingly looked resplendent owing to the glamour of turquoise. A jewelry structure in white gold, sapphires, tsavorite garnets, and diamonds surrounds the sphere. Earth's satellite, the Moon, is a foreseeable vision in white reliant on a moonstone surrounded by white gold, yellow gold, and diamonds for its eternal allure.

Mars looks striking, donning red jasper accentuated with rose gold and pink sapphires. Last but not least is a brown-toned jasper used for Jupiter in yellow and white gold, with sapphires and diamonds. Stunning Saturn showcases obsidian, complete with yellow and white gold rings set with sapphires and diamonds. The baubles glisten in interstellar glory against nine black aventurine glass discs concentrically placed within the dial. If outer space has never intrigued you, it will do so now, unquestionably!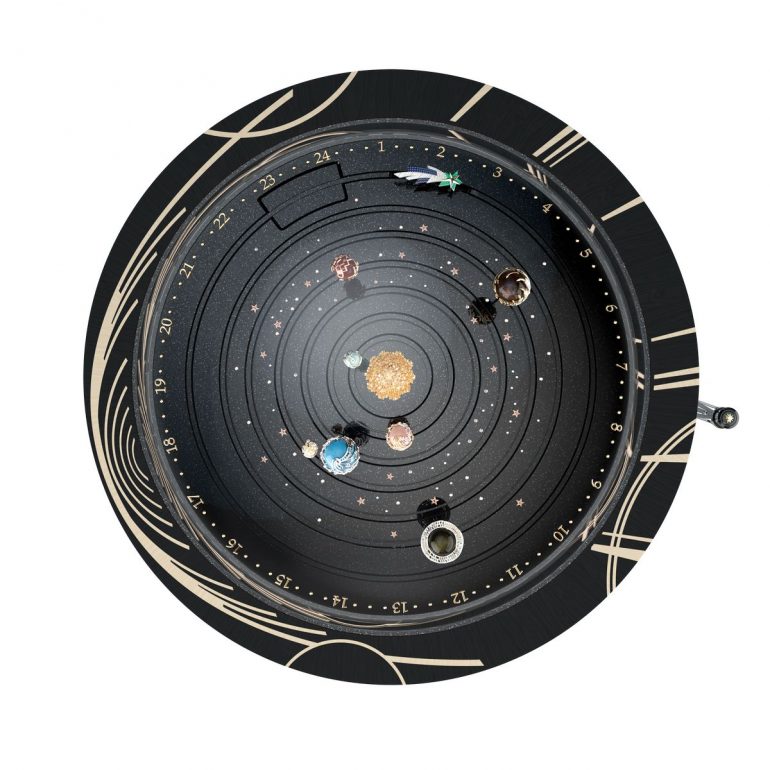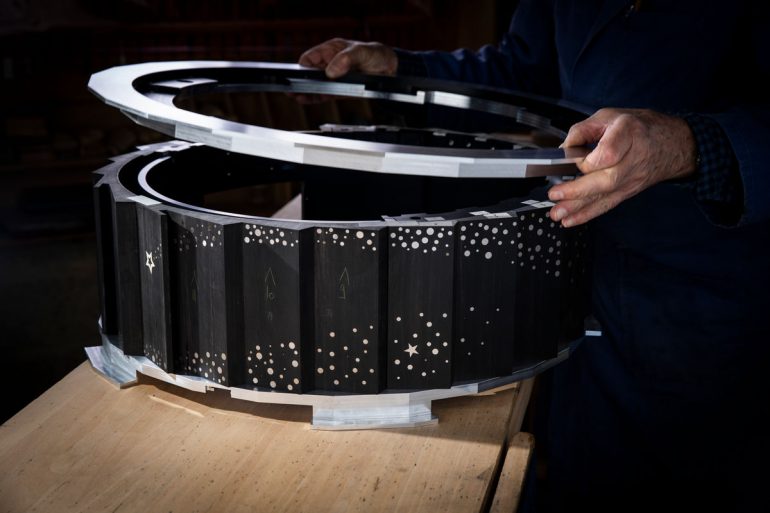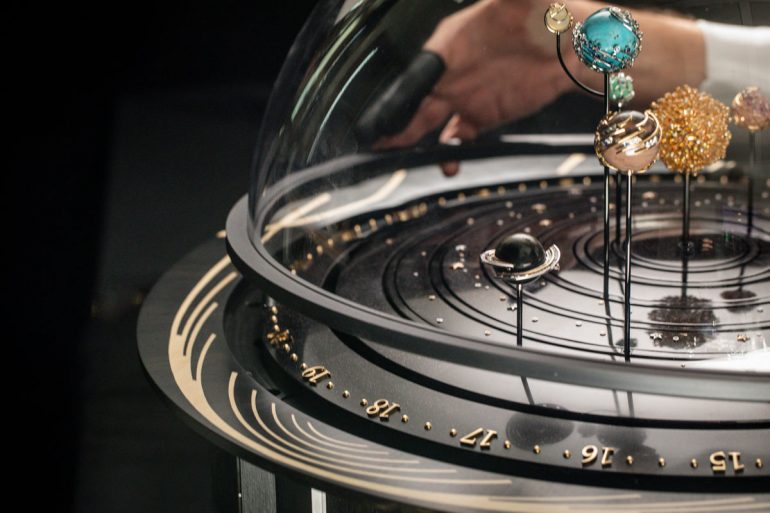 Source link