One man's loss is another man's gain. In the case of Tommy Hilfiger's superyacht Flag, the loss was his friends. Billionaire Lawrence Stroll's Faith yacht became the 204-footer by Dutch shipyard Feadship. Los Angeles-based YouTuber Enes Yilmazer and his team spent four days aboard the 'chic ship,' witnessing the most splendid way of putting $46 million to good use. Hilfiger's megayacht, named after the Tommy Hilfiger logo, comes complete with seven stylish cabins, a rooftop jacuzzi, a pizza oven, an elevator, and more.

https://www.youtube.com/watch?v=/q7QqfQwyvMg
While the fashion tycoon has impeccably maintained his superyacht, it is akin to running a business, and an expensive one at that. The fashion icon dubbed the luxury vessel his most prized possession and listed the gorgeous luxury yacht for sale, with an asking price of $46 million.
The vessel chartered for a tremendous $448,000 weekly rate and may soon find a new owner and a new avatar, though it would be a mistake of gigantic proportions to alter even an inch of the Flag yacht. Enjoy some stand-out elements of the $46 million designer luxury vessel, a floating, fashionable work of art.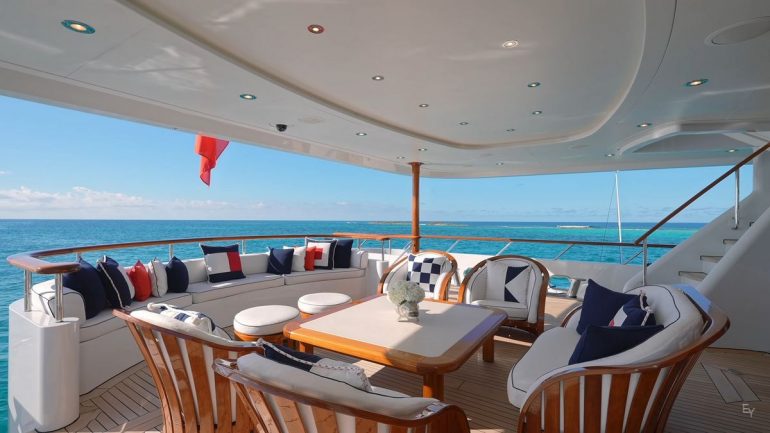 The main deck aft is a great lounging spot with ample seating and a signature color pallet made cozy with color-coordinated cushions and textures. It is spick-and-span, with teak floors, ambient lighting, and spectacular views.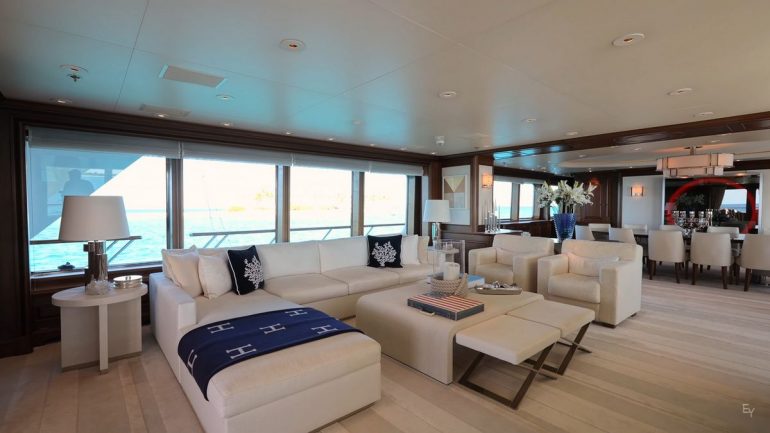 Sliding glass doors open to the main salon, which has a plush seating area, a dining area, and a separate bar area. The bar cabinet houses the finest spirits aged to perfection, and a cigar cabinet for connoisseurs onboard.
The formal dining room is an attractive spot that brings together large groups to enjoy the incredible food layout on Flag luxury motoryacht. The oval table in the center is surrounded by seating for 12. A chandelier inside the elliptical cove adds a vintage charm, while the avant-garde art called 'the portal' at the back adds a modern touch.
"We're also foodies," Hilfiger said, describing the chef onboard as "amazing, on another level." The chef rightfully called his kitchen the 'real engine room of the boat.' The kitchen is outfitted with top-of-the-line equipment for 14 guests and 17 crew. Double rational ovens, six-burner induction, salamander grill, integrated fridges, and freezers make churning out gourmet meals day after day an easy task for the gastro-maestro.
Even the staircase leading you to the lower level is not without impressive details. Carpet-clas stairs are lined with glistening metal, and railings wrapped in the Hilfiger blue make every nook and corner aboard Flag special—an unmatched level of detail. Flag is outfitted with an elevator, making every deck easily accessible.
Flag was built in 2000 by Feadship and bought by Hilfiger in 2017. It flaunts four decks and seven guest cabins on the lower level. The guest rooms are fitted with full-sized beds, leather-wrapped motorized shades, ensuites with natural stone floors, and bathtubs coupled with vanities and cabinets. Some stately guest suites come with an extra single bed and an additional murphy bed or wall bed.
The owner's stateroom is fit for the king of fashion. It opens into a study boasting a built-in desk and an adorable library.
Further, the full-beam room offers a separator seating area and a massive bed with a padded back wall, painting a picture of elegance. The bright, spacious room cleverly conceals a pop-up TV close to the bed. A touch of a button reveals the entertainment unit, which can disappear on demand from the stylish atmosphere of the owner's suite. The cabin also houses two bathrooms with heated stone floors and a walk-in closet.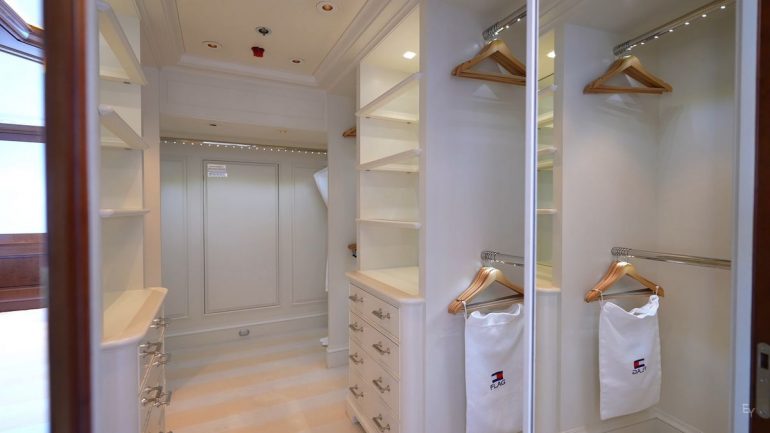 What good is a superyacht sans a super spacious walk-in closet? Flags owners suite boasts a large walk-in wardrobe with downlighters on the hanging rails, drawers, and glass shelves with mirror back walls. The interior designer Chahan Minassian certainly outdid himself.
Dee Ocleppo Hilfiger's favorite thing to do aboard Flag is to swim and snorkel. She shared with Enes Yilmazer, "And then I love all the toys, I love the e-foils and the jetskis. I like water skiing, and I love all the sports and activities." According to listing brokerage Burgess, the yacht comes with a water slide, trampoline, aqua park, kayaks, waterskis, a wakeboard and kneeboard, two jetskis, two SeaBobs, scuba diving equipment, and fishing and snorkeling gear.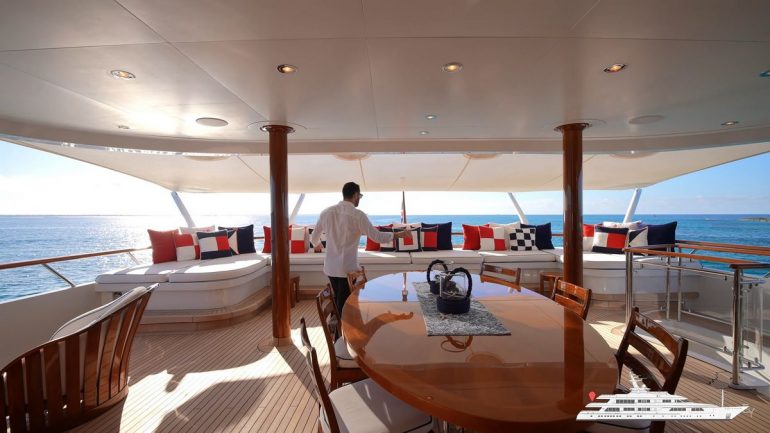 The bridge deck aft is where you most enjoy nature. Comfortable lounging areas and another dining area for al fresco dining and the most stunning views are served without interruptions. Guests are in a dilemma over choosing what is better, the incomparable food served here or the delicious views enjoyed from up there.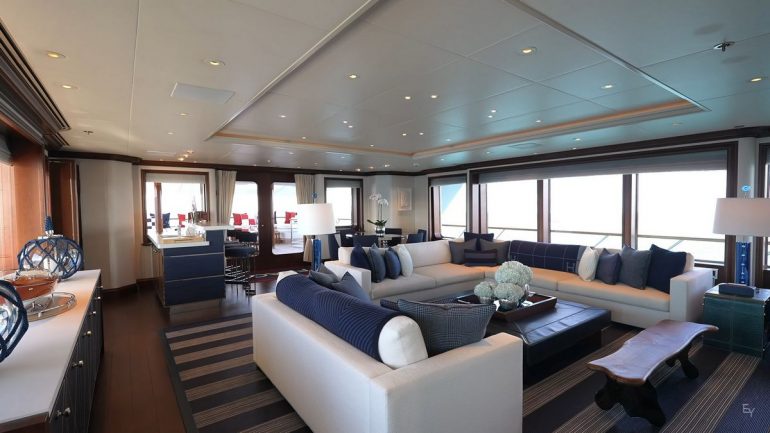 Flag undoubtedly appears to be a family yacht. It is excellent to vacation with a large group of friends, which makes sense from the several separate seating areas on Flag. The sky lounge is a serene blue space sectionally couched, with a large coffee table and television concealed behind a motorized art wall. The Sky lounge is an excellent conversation space with a separate bar for free-flowing merriment.
The sun deck houses a pizza oven, a rarity on even the most opulent yachts. It is flanked by an incredibly comfortable seating area next to a vast jacuzzi. Glass railings ensure your views stay uninterrupted.
To clearly perceive the excellence on board Flag and the level of hospitality, the owner-recommended Nobu experience comprising 16 courses. From perfectly flavored sushi to delectable appetizers and decadent desserts, there is no topping this experience.
Flag has been listed for sale since 2021. Buying the luxury vessel for $46 million seems like a minuscule task compared to the mammoth task of maintaining this lavish ship overflowing with ultra-luxurious additions, such as Hermes sheepskin chairs, mahogany trims, and the best of Tommy Hilfiger's world.
Source link