More than a decade ago, New Zealand-based architecture and design company W2 showcased one of the coolest RV concepts that featured a unique design inspired by a USB flash drive. Remember those tiny USB sticks with a swivel cap? The caravan had a similar rotating design in which a portion of the living area would swing out to expand the available floor space. Back in 2012, the company had only digital renderings of the futuristic RV which was followed by a physical prototype in 2018. Well, W2 has finally unveiled the production model of the ultra-cool trailer called the Romotow T8 and has started accepting orders for it. Thankfully, the Romotow T8 looks remarkably similar to the concept it's based on.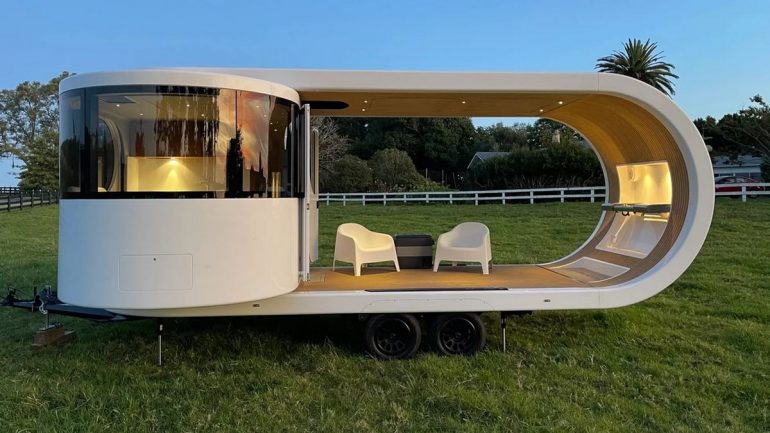 Measuring slightly less than 10 meters in length, the T8 features an automatic folding mechanism that transforms it from camp to travel form in under a minute at the press of a button. In travel mode, the trailer takes the form of a sleek, aerodynamic camper with a minimalistic design. When it's put into the camp mode, the entire living section swings outwards to 90 degrees, opening up an elevated faux teak patio. The section can be optioned with a fold-down built-in grill and a basic outdoor kitchen, patio furniture, and canvas screens. While it may seem gimmicky, the T8's unique rotating design will make it the coolest camper in the trailer park.

T8's living area continues with the minimalistic design approach and the company is offering several different configuration options for the cabin. The kitchen is offered in two floorplans, either with one or two islands. Both options are fully equipped with a cooktop and sink. The dinette also comes in two configurations. Buyers can choose between a 4-person table and the standard double bed made up at night from the benches, or 6-person dining and two additional "always-made" loft beds. Other amenities include top-shelf appliances, wall-mounted TVs, an outdoor projector system, and a multi-zone sound system. Furthermore, there's also a 200-Ah lithium battery to power the trailer's hydraulic opening system and the equipment inside the cabin. It can be replenished with the help of roof-mounted solar panels. The Romotow T8's pricing starts at $268,500 and you order one for yourself by making a $6,300 deposit.
[Via:
Carscoops
]
Source link