Meet Kenshō, the Motor Yacht of the Year winner at the World Superyacht Awards 2023. Meaning 'seeing one's true nature' in Japanese, the ship demanded six years to reveal her own. The ship's owner, billionaire Udo Mueller, lent the boat a vision along with a team that executed it perfectly, resulting in an award-winning luxury vessel. After exploring the world's landmark yachts, the owner knew precisely what he didn't want and ended up with the charming Kenshō. Let's take a look at this owner-driven project-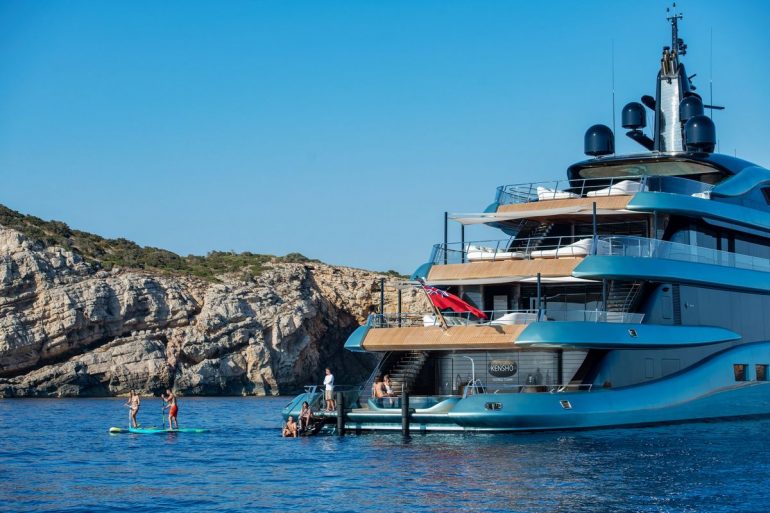 Kenshō, the knockout!
246 feet Admiral yacht debuted at the Monaco Yacht Show in 2022. All it takes is a glimpse to forever etch this superyacht and her flowing lines and green-blue metallic paint in one's memory. Parisian design studio Jouin Manku breathed life into Mueller's vision for a boat that's a cut above the rest.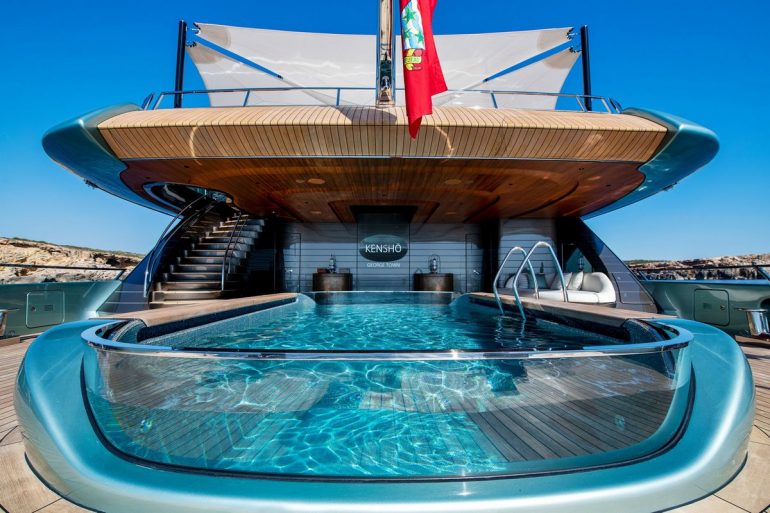 The nature-inspired theme is prevalent in the interior and exterior (inspired by the curves of a pebble, shaped by the forces of nature over time). The four-decker is aptly divided into seven guest cabins and an extensive owner's suite.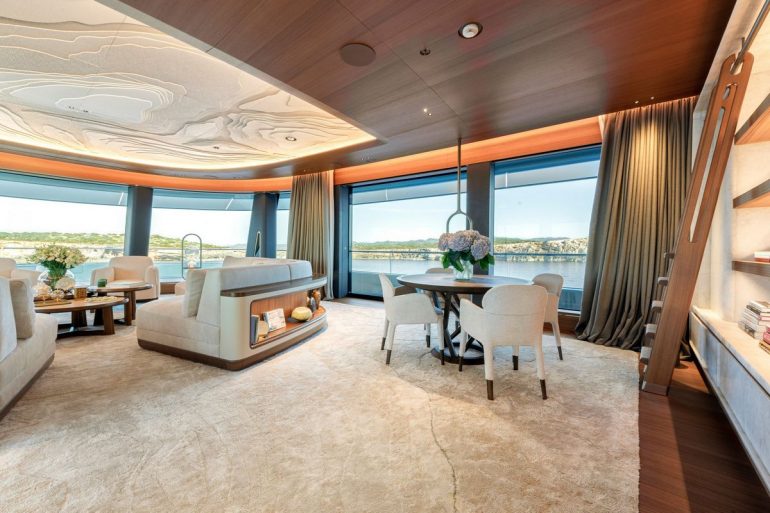 What's evidently missing in Kenshō is the main saloon. The only internal dining space replaces it. The owner also ensured high deckheads and minimal side decks. "I wanted to do something really new, something better from my point of view, and I knew that would be possible only with a radical and disruptive move," said the owner.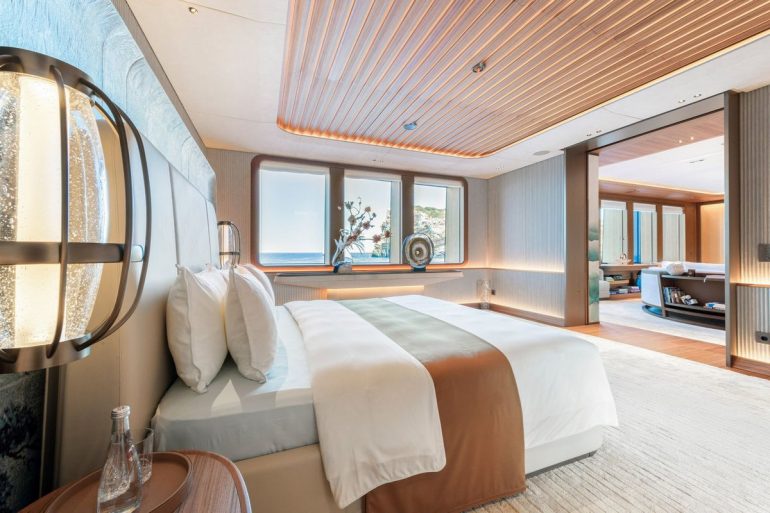 He resides in the forward half of the main deck in a kingly owner's suite that comprises a lavish cabin, bathroom, a stately dressing room, and a private living room.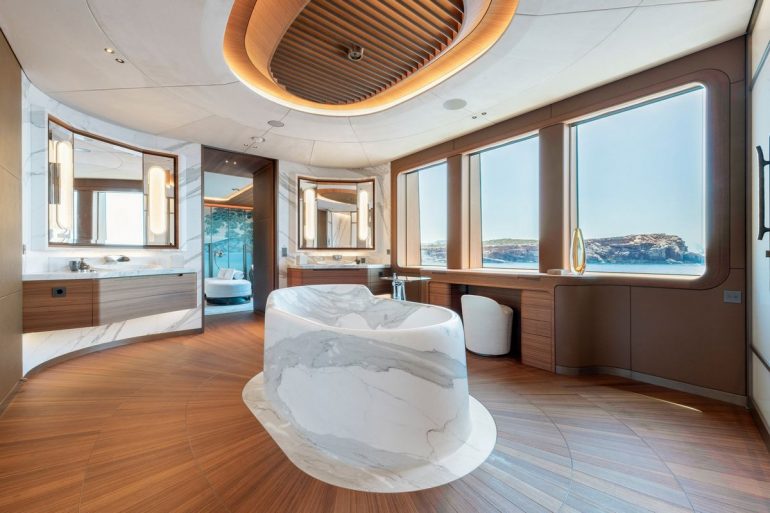 Asian influences led to the room flaunting fabulous teak cabinetry, metal panels sheathed in glass, a serene leather ceiling, and sliding doors. Still, the poshest space in the main suite is undoubtedly the en suite; the cynosure is a bathtub carved out of a solid block of Carrara marble that could be dubbed a work of art. "It had big, beautiful veins running through it like Japanese calligraphy," said Manku. "They haven't found any blocks like that for a couple of generations, but we managed to persuade the [yard's] owner that we were the project he was waiting for."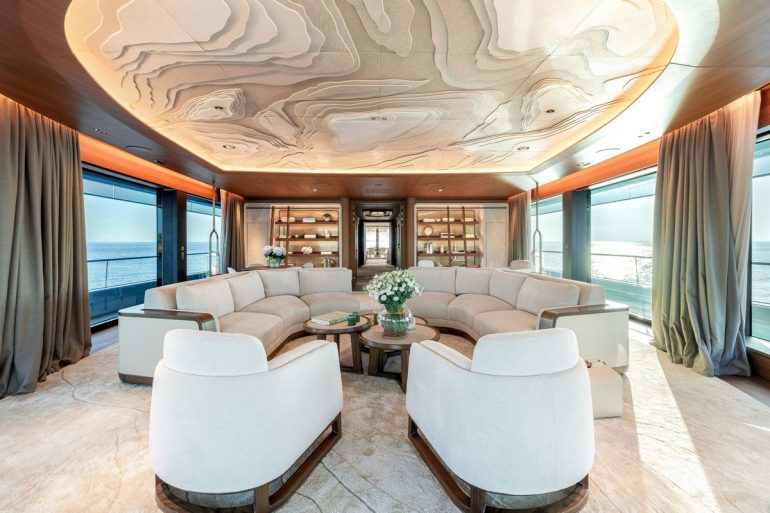 Details are given the right amount of attention. Anyone with refined taste will take notice of the unique door handles (lift features buttons in mother-of-pearl) and paintings on the silk wall panels in the heads. As the decks change, so do the details. From handles in brass to leather and stone, a superabundance of design is incorporated into every simple element.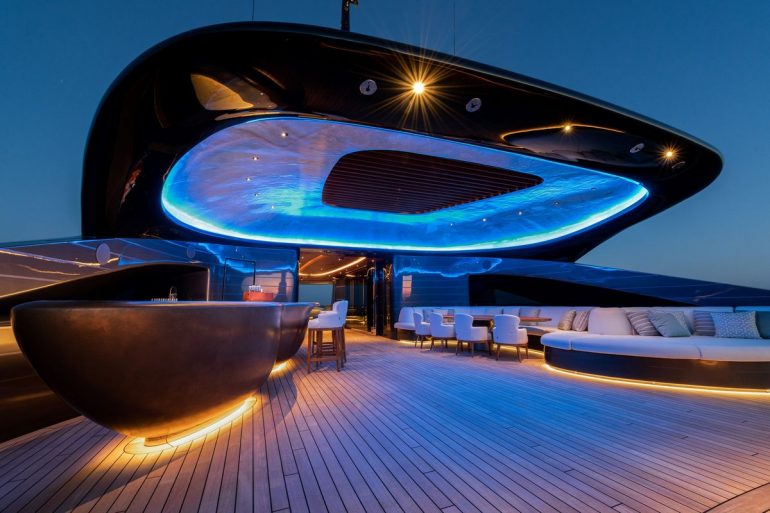 Moving upstairs, the upper aft deck boasts full glass and open railings permitting phenomenal views in every direction. Even the outdoor sofas have no backrests to keep the sights uninterrupted.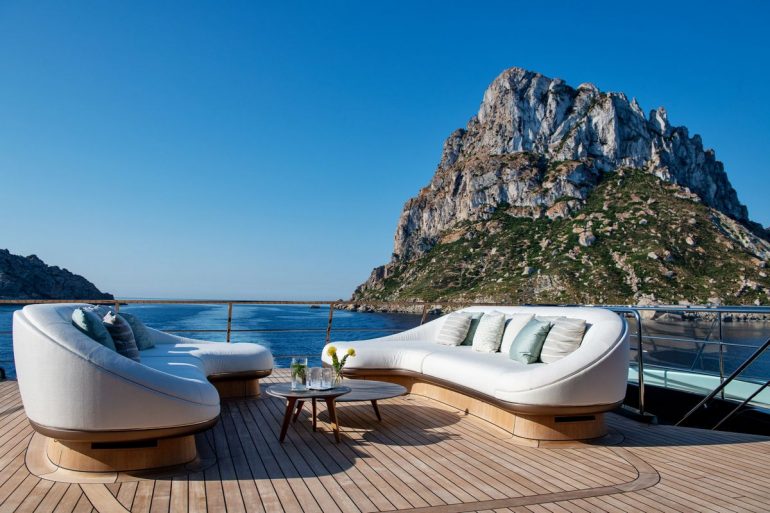 The sundeck is packed with social spaces like a pool, lounge areas, dining space, and an integrated spa pool with a manta-ray-shaped sunbed. Kenshō's diesel-electric propulsion system gives her a cruising speed of 13 knots. Kenshō' is available for charter for a weekly charge of $950,000.
Who is Udo Mueller?
61-year-old Udo Mueller, marketing firm Stroeer SE's largest single shareholder and co-CEO, is a man worth $1 billion. Born in 1962 in Rüdesheim, he managed his first publishing house at 19. The man with a medical degree founded the advertising agency Lunenburg & Partner in 1985, quickly becoming one of Berlin's leading agencies.
He partnered with Heinz W. Ströer to open up new outdoor advertising markets with Ströer. Stroeer SE went public in 2010 and employed over 10,000 people in 100 locations worldwide, generating annual revenue of about $2 billion.
Source link