Home is where the heart is. For Cara Delevingne, home is where the ball pit, music room, party bunker, and secret passage are. As I am visually overwhelmed by the eclectic images of Delevingne's home, I leave it to her to best describe Casa Cara- "It's the design equivalent of a jaw drop," she articulated. "There's no mistaking whose house you're in." Accurately, there is no other house like Cara's on the planet, and one can say that with certainty. Not many have the guts and spirit to craft their own wonderland that's doubtless an extension of the supermodel's personality.

The private Los Angeles abode is vivacious, peculiar, and outright splendid, much like its actress owner. The 30-year-old, who dons many hats, bought the two-story house from Jared Leto for just over $2 million. Cara and her sister Poppy Delevingne roped in Nicolo Bini from Line Architecture to make their vision tangible in the most fun way possible!
The extravagant party pad was built in 1941
Originally the English-style manor was made in 1941 for the affluent members of the Von der Ahe family, founders of the Vons supermarket chain. The white-brick residence that now exhibits magnified artworks of the human anatomy and stripper poles was once visited by his holiness Pope John Paul II in 1987.
Making a point with nature–
One will find more verdure inside the $7 million Delevingne pad than outside. There are loads of visual stimulants and natural muses witnessed on walls donning OTT Gucci wallpaper featuring overscaled herons, conspicuous carpets starring snakes and leopards, and eye-catching bird sculptures by Mexican artist Sergio Bustamante.
The flora and fauna of the supermodel's wonderland are completed with an overdose of ferns, palms, topiaries, and other houseplants. Foliage apart, Cara makes a very in-your-face point about destigmatizing private human organs by embedding them into the very design of her home. This explains why there is a birth canal (a secret passageway leading to the bunk room) or several nude paintings adorning the carpeted walls of the soundproof party bunker.
At Cara Delevingne's abode, the games never end-
It is true, getting bored is one thing that will never happen inside the two-story Casa Cara! The fun-and-games theme is the most prevalent, nearly heady and hammering a carnivalesque appeal all over. The attention-grabber is doubtless a giant ball pit, a poker room, a cosplay closet, arcade games, and more! "I love games – charades, beer pong, poker, Cards Against Humanity, tug-of-war, whatever feels fun," Delevingne told Architectural Digest. When my friends come over, the house turns into an obstacle course. It's like an indoor/outdoor playground by way of Alice in Wonderland," she says. "If I'm having a bad day, I just hop in the ball pit. You can't really cry in a ball pit."
The $7 million LA mansion is a reflection of its residents-
A home is a normally a reflection of the people who live there and their tastes. In Cara's case, it is indeed an architectural mirror where every nook and corner represents a part of her personality. "My work requires me to put on many different hats and costumes. I love slipping into these various characters, so I wanted my home to reflect lots of different themes and moods."
Architect Nicolò Bini of Line Architecture effectively translated the supermodel into a house. From incorporating unheard-of-elements such as an adult playroom, a museum of her most-cherished things and a music room housing a priced Chanel guitar gifted by the late Karl Lagerfeld and one signed guitar signed by legend David Bowie, there are tons of memorabilia and unending Cara corners!
Delevingne's home includes some eclectic pieces of art-
In a home that doesn't have one bare wall, chances are the art might be unheeded among the striking monkey chandeliers, tasseled swings, disco balls, and mirrored ceilings. As luck would have it, the art in Cara's home is just as arresting as the rest of it. There is no missing the Chemical X bull's-eye sculpture made of thousands of Ecstasy pills suspended in acrylic, a $20,000 clear piano, and a pricey James Turrell art.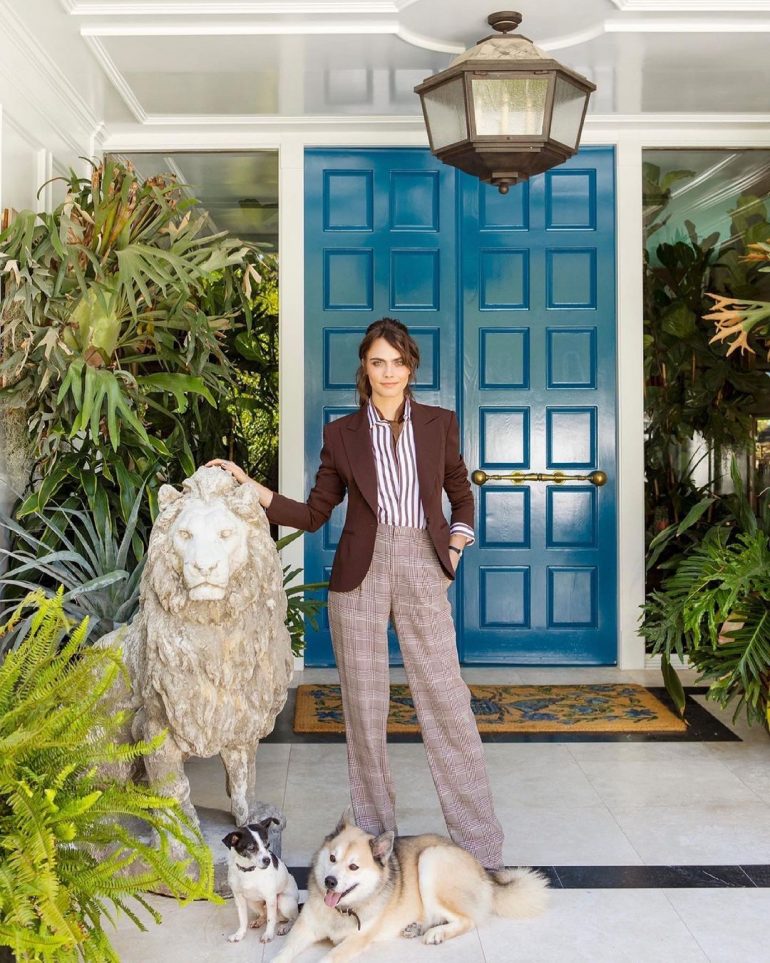 Living in a wonderland like Delevingne's isn't everyone's cup of tea! However, the supermodel insists that her house is more than a theme park. "It still feels like a home. There's a proper dining room and living room and a great kitchen. But it's also a kind of journey. The deeper in you go, the more treasures you discover," she shared.
Some regular additions to the eccentric residence are a full-size guest room with a bamboo bunk bed, a large kitchen, and a sprawling living room. Outside, the backyard boasts a swimming pool and two trampolines.
Source link