Most Middle Eastern countries understand the quote, 'You never get a second chance to make a good first impression.' It explains why they not only cast an excellent impression but a lasting one! The adage comes to life with The Katara Towers in the city's green district, Lusail! Crossed like scimitars, two towers pay a luxurious homage to Qatar's national emblem.



The building is occupied by the epitome of luxe living-Fairmont Doha and Raffles. A sprawling 300,000 square meters area is divided between the two 5-star and 6-star hotels.

Raffles is a luxurious all-suite hotel boasting breathtaking views of the Gulf and downtown area. Most of the 132 suites offer a private outdoor terrace equipped with a personal butler service that caters to every need of guests.

While all suites are incredibly well designed, themed suites like the Parisian suite, reminiscent of a Haussmann apartment in Saint-Germain-des-Prés, offer an extra touch of sophistication and charm. The ultimate amenity is in the Raffles' Royal Suite, occupying two floors.

Double-height domed ceilings, and many entertainment options, like a game room and cinema, impress the most regal dignitaries and VIPs. The Royal suite even offers a personal spa, complete with a hammam.

If you're not quite ready to splurge on the Royal Suite, don't worry! Raffles has plenty of public spaces that will transport you into a world of luxury and indulgence, giving you a tantalizing taste of what it would be like to live like a VIP.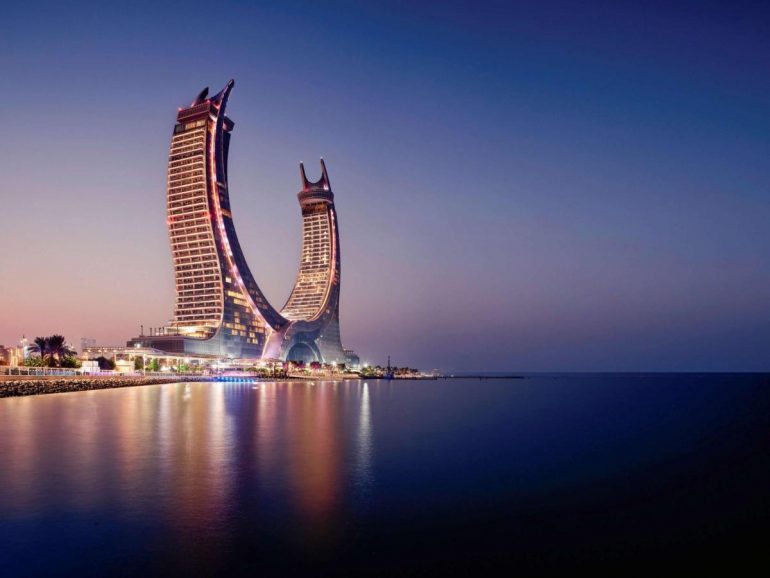 The other extravagant half of The Katara Towers is inspired by its waterfront location. Crisp white decor, a light and airy feel with a touch of exuberance is found in each of the 361 rooms and suites of the Fairmont Doha.
The Fairmont Gold is a hotel-within-a-hotel that offers perks like dedicated butler service, an exclusive pool, and lounge access. With five innovative dining venues, a cutting-edge fitness center, and world-class spa facilities, the Fairmont Doha is genuinely exceptional. Both hotels are managed by Accor and opened in 2022 at the same time as the hosting of the football World Cup in Qatar.
Source link