Unless you've been living under a rock, I'm sure you must be aware that artificial intelligence (AI) has been the hottest topic lately. All kinds of businesses are trying to jump onto the bandwagon to reap the benefits of the hype around AI, which includes the luxury yachting industry. Over the last few years, some companies have demonstrated the possible applications of AI in the world of sailing, which have mostly been around autonomous navigation. However, Rossinavi has come up with a very different use of artificial intelligence, which might prove to be very useful in mitigating range anxiety. The Italian shipyard Rossinavi has launched its newest luxury vessel which is being touted as the world's first superyacht to be powered by AI technology.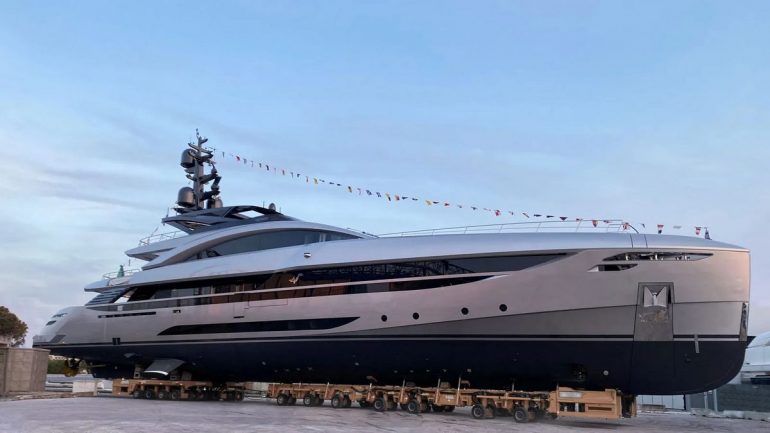 Aptly named 'No Stress', the 50-meter vessel was recently lowered into the water for the first time at the Viareggio shipyard in Italy. It's the first superyacht in Rossinavi's lineup to feature a hybrid propulsion system that combines two MTU 16V 2000 M96L diesel engines with two electric motors powered by generators and a battery pack. Rossinavi says the diesel units and the two electric motors can operate independently of each other, allowing up to five different operating modes, including an all-diesel and an all-electric mode.
The superyacht's first-of-its-kind AI system comes into use then the vessel is operating in the all-electric mode. The AI system autonomously monitors power consumption and helps in maximizing energy efficiency when cruising and at anchor. "Artificial Intelligence allows you to enjoy the electric experience on board to the fullest," Rossinavi's COO Federico Rossi said in a statement. "This is only the beginning, as this technology will be optimized next year, revealing its fullest expression with the launch of the Sea Cat."
Rossinavi is yet to reveal more information on its new vessel, including details on how the AI system actually works. The Italian shipyard has also not revealed details on the interior design of the vessel, which is believed to be minimalistic and free-flowing as per the owner's brief. The client asked for the living quarters organically blend with the outdoor decks, thanks to which the vessel has openings on both the hull and superstructure along with floor-to-ceiling glass windows. Reportedly, the vessel is big enough to accommodate 12 guests. On the outside, No Stress' design is inspired by automotive icons, giving the vessel's all-aluminum hull a sporty and sleek appearance. The exterior and interior styling are both done by Enrico Gobbi's Team for Design.
Source link