Advertising on the sides of trucks and trailers is a common marketing technique that has been around for ages. However, someone in Dubai thought it would be a good idea to turn a Ferrari LaFerrari into a mobile billboard to promote an upcoming luxury apartment complex. But, to be fair, one has to think out of the box to advertise a high-end property in a hyper-competitive market like Dubai and nothing screams of affluence like a rare and uber-expensive hypercar. Thankfully, the Ferrari halo car isn't covered in a hideous wrap but subtle logos of the elite residential property called One Canal.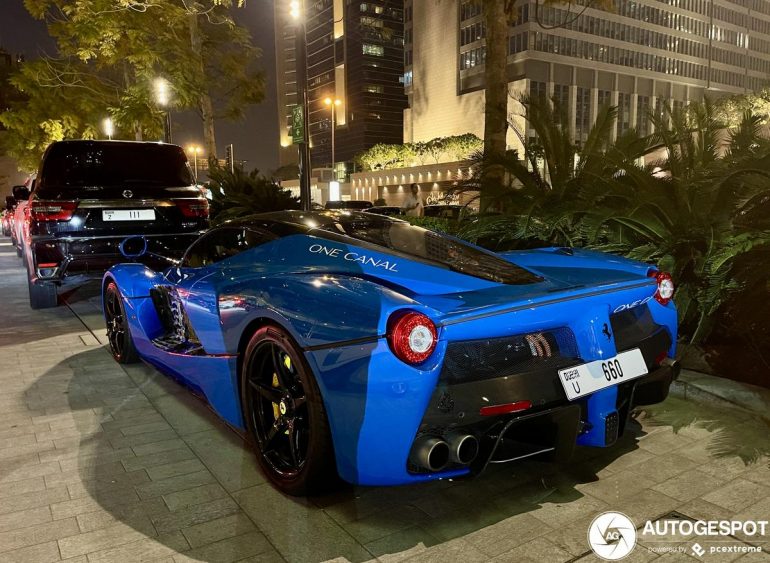 We don't know if the LaFerrari finished in an eye-catching blue color is owned by the developer of the luxury property or if it has been rented for the sole purpose of advertising. However, the pictures show the LaFerrari in the company of some other special automobiles, which include a Bugatti Chiron and a Mercedes-Maybach GLS.
Ferrari LaFerrari
LaFerrari is a limited-production mid-engine hybrid hypercar that was introduced by Ferrari at the 2013 Geneva Auto Show. The Italian marque limited the production of the flagship model to 710 examples for the coupe version and 500 examples for the top-down Aperta version. It is powered by a 6.3-liter V12 which is assisted by a single electric motor, taking the combined output to 950 hp. The Ferrari hypercar had a starting price of around $1.4 million when it was launched a decade ago, but a well-kept example can easily fetch upwards of $5 million these days.

One Canal is an upcoming elite residential complex of penthouse apartments located on the shores of the Dubai Canal, in the Al Safa district. The 9-story building complex is being developed by AHS Properties in collaboration with the world-renowned Italian brand Fendi Casa. The property consists of a collection of 24 penthouses with 3-4 bedroom layouts and opulent sky villas in 4-5 bedroom configurations.

In addition, One Canal also features an exclusive 6-bedroom Sky Mansion of 18,000 sq. ft area. The prices start at 18 million AED (about $4.9 million) and the completion of the project is planned for the fourth quarter of 2024.
Source link