If you're in search of the next luxe stay – this news is just for you! The newly opened The Ritz-Carlton New York, NoMad has unveiled The Ritz-Carlton Suite, a premier addition to the 250-room hotel, in addition to The Ritz-Carlton Club Lounge. Situated on the 37th floor, the suite boasts panoramic views of Manhattan with the Empire State Building and the Statue of Liberty in sight. It spans 2100 square feet and comprises one bedroom and a fleet of luxurious amenities.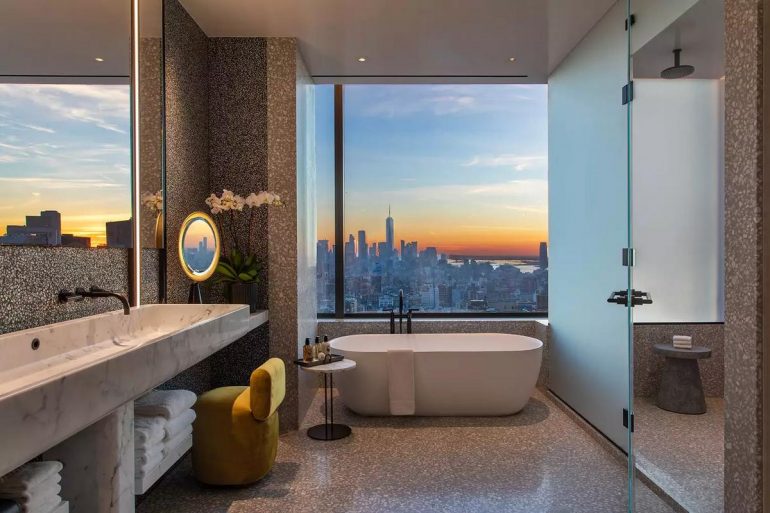 These include a private wellness room featuring a Peloton bike, separate living and dining areas, a media room, a 200 square-foot dressing area, and a spectacular Terrazzo marble bathroom with a soaking tub and double rain shower.
The luxe abode also includes several elegant nooks and an abundance of natural light with earthy-toned interiors. Further, guests can book it along with an Empire State Double room to form a 2,700 square foot two-bedroom suite.
In addition to this, they also get access to a designated Club Level room with special access to the Ritz-Carlton Club Lounge. The latter offers five complimentary culinary offerings throughout the day that are specially curated by Michelin-starred chef José Andrés and his team. Commenting on the novel Ritz-Carlton Suite, Bastian Germer, the hotel's general manager, in a statement to Travel + Leisure said, "This breathtaking suite offers guests world-class luxury right in the heart of Manhattan…" and we quite agree!
If you're interested, The Ritz-Carlton Suite can be booked for rates starting at $20,000 per night.
Source link