UK National flagship superyacht, the once confidential carrier, is out in the limelight! Renderings were revealed by Vitruvius Yachts of the design that was shortlisted as a finalist in a design competition headed by defense secretary Ben Wallace. Unfortunately, plans were scrapped, and the 410-footer looked captivating but only as drawing on pages. The yacht was the brainchild of London-based design studio Vitruvius Yachts, Zaha Hadid Architects, and aluminum specialists Ocea. If made, it would've been an imposing nearly $310 million replacement for HMY Britannia, a vessel close to Queen Elizabeth II's heart. The new royal yacht looks resplendent with a royal blue hull, a sustainable, zero-emission propulsion system, and an emphasis on a multi-role mission.



The images do now showcase the interiors, but it is shared the flagship superyacht would flaunt interiors based on recycled and recyclable materials. The space can double up as an exhibition showcase or floating embassy equipped to host state dinners and private receptions, with amenities suitable for all ages and abilities.

"To design a vessel – a flagship – that will become a benchmark in sustainability as well as demonstrating British excellence and heritage for current and future generations, while also being a symbol of inclusion and diversity, was an enormous challenge that kept me awake at night," said Philippe Briand, the founder, and designer of Vitruvius Yachts. "The nature and intensity of the project kept me focused but also filled me with pride, not just in the design process itself but for what the flagship stands for."

The zero-carbon vessel, constructed of recycled aluminum, would use biofuels, hydrogen, and wind for propulsion producing 30% fewer greenhouse gases compared to a conventional design over a 30-year period. Another unique element of the $310 million ship is the Union flag ribbon motif enhanced with an LED-lit line effectively projecting the flag into the water at night. Indeed, a ship fit for a king!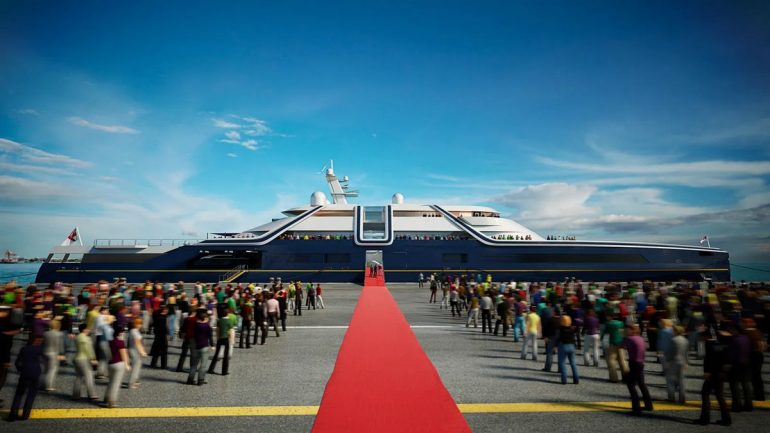 Source link