Germany-based Mansory has built itself a reputation for ruining perfectly beautiful luxury cars by making outlandish custom versions that are often tasteless and obnoxious. Their latest project involves the ever-popular Mercedes-Benz G-Wagen, which we all agree is absolutely perfect the way it is. However, Mansory thought it would be a good idea to transform the iconic SUV into an attention-grabbing two-door coupe with suicide doors. Called the Gronos Coupé EVO C, the heavily-modified G-Wagen is thankfully limited to just 8 examples. This is the second awfully-executed custom 2-door G-Wagen we've seen over the last few weeks, with the Project Mondo G dressed in a puffer jacket being the other one. It's hard to decide which one of them is worse.



In typical Mansory fashion, the Gronos Coupé EVO C features over-the-top design elements infused with heavy doses of carbon fiber. But building it wasn't as easy as slapping a poorly-designed body kit to the current-gen G-Class. In order to transform it into a two-door coupe, Mansory had to make some serious modifications which required stripping the chassis down completely, removing all four doors, and shifting the B-pillar rearward. To give it suicide doors, Mansory also had to reposition the door opening mechanism. Interestingly, this is the only new two-door G-Wagen available for sale as Mercedes stopped selling it in the mid-2000s.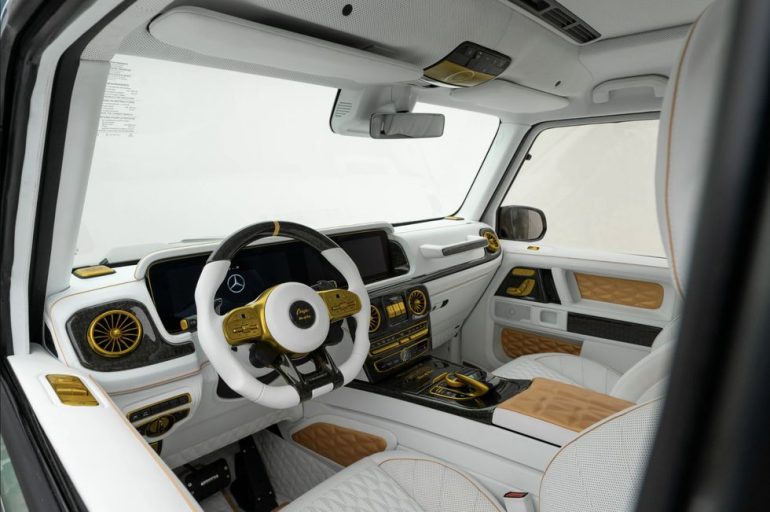 In addition to the suicide doors, the Gronos Coupé EVO C gets 24-inch monoblock wheels, roof-mounted LED lights, a rear spoiler, and a weird color-shifting paint called "Fludium paint chrome atmosphere." On the inside, the custom G-Wagen's cabin is decked out in diamond-stitched white leather which is contrasted with gold trim. Mansory claims it has also worked on the SUV's 4.0-liter twin-turbo V8 to increase the output to 900 hp and 885 lb-ft of torque. As a result, the massive 4×4 off-roader gets a 0-62 time of 3.3 seconds and a top speed of 155 mph. Mansory has not revealed the pricing, but you can head over to the company's official website for more information.
Source link