German shipbuilding company Lürssen recently completed the technical launch of the 114.2-meter superyacht Project Cosmos from its facility in Rendsburg in Germany. Previously known as Project 13759, the explorer vessel was commissioned by a Japanese owner and is one of the largest yachts currently under construction. The construction began in 2020 and this is the first time we got to see the vessel. Beyond its massive size and unusual shape, Project Cosmos is a pioneering superyacht that could prove to be a game-changer. The highlight of this luxury superyacht is its cutting-edge powertrain that uses green fuel cell technology that could steer the yachting industry toward an emission-free future fueled by clean energy.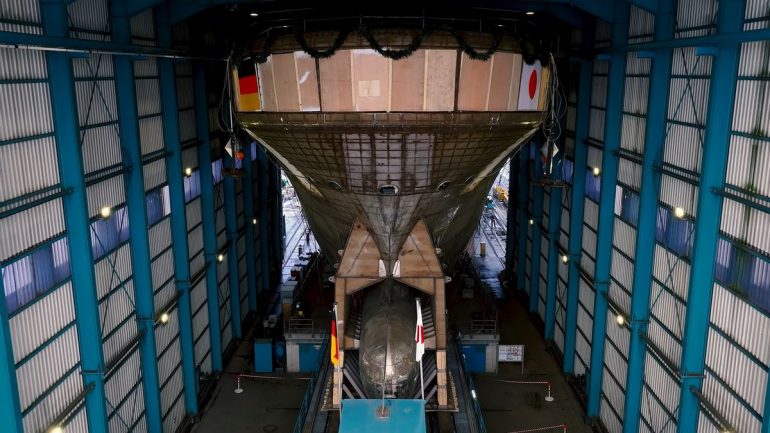 Lürssen has a reputation for constantly pushing the boundaries of maritime engineering and innovation. It has been committed to using fuel cells on ships since 2009 and has been working on the methanol-hydrogen fuel cell power plant since 2012 in partnership with the experts at the Freudenberg Group. Project Cosmos is the first superyacht in the world to use hydrogen fuel cell technology onboard for propulsion. "Fuel cells have very little maintenance and are more efficient than a diesel engine, which is already a very efficient way to produce power," explained Peter Lürssen, CEO of the German shipbuilding company.
How the technology works
Hydrogen fuel cell technology uses stored liquid hydrogen that is fed into an assembly of individual membrane electrodes that use hydrogen and oxygen to produce electricity. The process results in zero emissions of environment damaging pollutants, including nitrogen oxides, sulfur oxides, soot, and CO2 (greenhouse gasses). The only waste product that comes out is water. Instead of using liquid hydrogen in tanks, Lürssen's powertrain uses easily available methanol to produce hydrogen. Methanol is much easier to handle and store than liquid hydrogen and can still carry a lot of hydrogen within its chemical composition.
According to Lürssen, Project Cosmos' green propulsion system will allow the owner more than 15 nights emission-free at anchor, or the owner will be able to slow cruise his superyacht for more than 1000 miles emission-free. This is truly groundbreaking as the yachting industry has lately come under a lot of criticism and pressure, forcing it to find ways to substantially reduce its carbon footprint. Last year we did a story on the carbon footprint of some of the biggest superyachts in the world; the carbon footprint of Russian oligarch Roman Abramovich's luxury megayachts is shockingly more than some island nations. Hydrogen fuel cell technology has the potential to completely transform the industry, steering it away from the stigmas of being gas guzzlers and disastrous for the environment. Since it produces only water as waste, superyachts powered by the technology can cruise guilt-free.
Project Cosmos – what we know so far
Lürssen usually stays tightlipped about its projects before they are launched and the 114.2-meter superyacht is no different. Project Cosmos has an explorer-style profile in which the superstructure is placed forward to create a large aft deck. The pictures reveal a swimming pool and a large cut-out, which might be used to stow a large tender. Another interesting feature can be seen on top, which appears to be some sort of observation lounge with a 360-degree view. Furthermore, a helipad on the bridge deck below. According to Boat International, the exterior has been designed by Australian designer Marc Newson, who was also responsible for designing the 139.7-meter Solaris.
The luxury superyacht is believed to be commissioned by Japanese billionaire entrepreneur Yusaku Maezawa who was photographed onboard the vessel during its technical launch. Delivery of Project Cosmos is expected in 2025.
Source link