Behold the G-Quest, a gargantuan megayacht concept by California-based designer Steve Kozloff conceptualized by keeping in mind an altruistic billionaire who wants to serve humanity through various philanthropic endeavors without leaving the lap of luxury. Most megayacht concepts we get to see entirely focus on offering top-shelf amenities and comforts to the owner and the guests. But the G-Quest is very different. Measuring a whopping 705 feet in length, the concept behind the megayacht is to aid oceanographic research along with carrying out humanitarian missions without compromising on fun aspects of luxury yachting.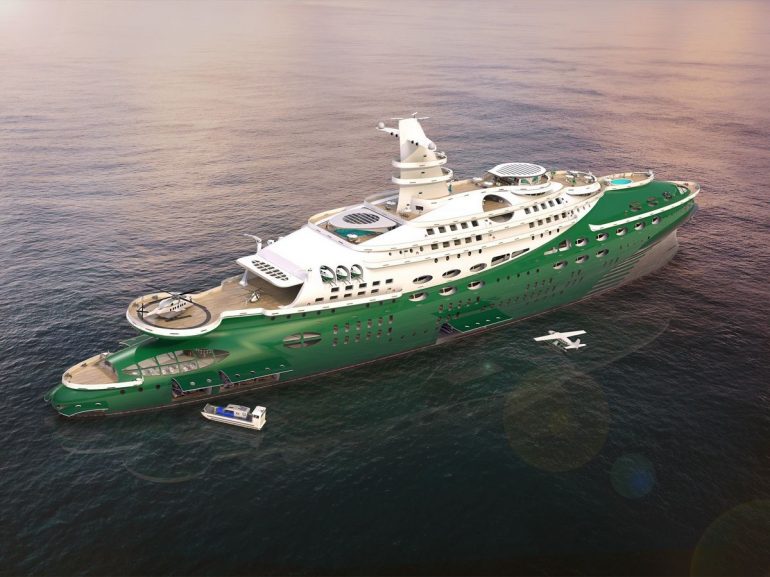 If the G-Quest is ever commissioned, it will be the largest yacht in the world with its 705-foot length. It would completely eclipse the Azam, which is currently the largest megayacht with a length of 590ft. The design of the humongous explorer vessel is also very interesting with a green-colored hull and a white superstructure. Since the megayacht has been conceptualized for a philanthropic owner, it obviously can't be propelled by an environment-damaging powertrain with a destructive carbon footprint.
According to Kozloff, the explorer will be powered by a cutting-edge electric propulsion system for clean and efficient cruising. The designer claims it will use futuristic fuels like hydrogen or biodiesel along with the featuring latest battery technologies. This will give the G-Quest a claimed range of more than 20,000 nautical miles, making it fit for across-the-globe expeditions.
The upper three decks of the G-Quest are reserved for the owner and their guests, while the rest of the space on offer is designated for use by the onboard doctors, scientists, and researchers. Kozloff claims the gargantuan vessel will be able to accommodate a total of 26 guests and 150 crew, including permanent crew, doctors and nurses, researchers, and a wide range of specialists. The owner's 3,000 square feet luxury suite is located in the bow and offers panoramic views.
It also has a giant private pool, while the bow also gets a lavish salon and dining room. Additionally, the vessel features a beach club with a full bar and a shaded lounge area with a pool. If that was not enough, the flybridge has another pool along with a spa, a lounge, and a half basketball court.
But the primary objective of the vessel is carrying out philanthropic work and aiding research. According to its designer, the vessel will have a complete oceanographic laboratory, a medical laboratory with MRI and X-ray imaging, an ophthalmology department, and a dentist suite. Furthermore, it will feature as many as 20 hospital beds with 5G-connected robotic surgery facilities along with a full-fledged marine laboratory. It will also be fitted with high-tech navigation and communication equipment along with top-tier security systems and even armored windows.
Since the G-Quest has been designed to function as an explorer's vessel, its tender garage is jaw-dropping. The megayacht is designed to carry one U-Worx Research submarine, six Candela hydrofoil boats, one electric ship-to-shore landing craft for vehicles and bulk freight, three electric Taiga-Orca jet skis, and two SUVs. Additionally, a 5,600 square-foot hangar would house two Sikorsky S-92 VIP helicopters, one eVTOL air limo, and some smaller aircraft, while the midship tender garage would fit two Cessna Caravan Seaplanes.
These are not mere toys but essential equipment that will allow exploration of the most remote areas. Kozloff says the estimated cost of the yacht is $1 billion to $1.2 billion. Let's see if someone is willing to pay that amount for this unique megayacht.
Source link