Nearly four years ago, a Saudi royal, HRH Prince Saud bin Abdulaziz Al Saud purchased a $45 million Bel-Air mansion. Business Insider reported he also got the smaller neighboring home for $7.2 million. The Saud royal is now listing his stately home, set on 1.15 acres of land, for $75 million. If the sale goes through at that price, its a profit of $30 million in less than five years. Is the home worth the hoopla? It sure looks like it. Not only is the home massive, but it is also very elegantly designed. The Bel-Air estate is a modern-day palace fir for a Saudi royal with world-class amenities and a cosmopolitan vibe. Let's take a closer look at this lovely Los Angeles abode-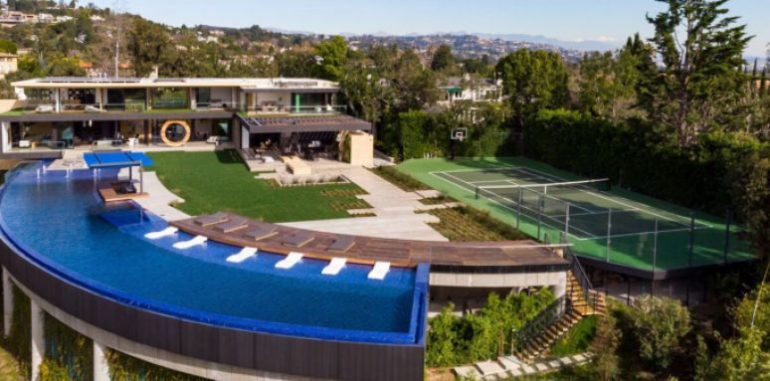 The massive monolithic-style mansion stands like a fortress on 1.5 acres of land. It features a sprawling 20,000-square-foot contemporary home and a 250-foot infinity pool, which per Dirt, is one of the biggest in Los Angeles.
Like most beautiful things, this California home of a wealthy Saudi Royal took five long years to build. Specialists at Tag Front Architects gave this home its lavish interiors. It is a robust example of the talent of developer and diamond manufacturer Rafael Zakaria.
The luxurious $45 million home has seven bedrooms, ten bathrooms, and a 12-car garage to accommodate numerous cars of a billionaire owner.
Nestled between ample greenery, the limestone floors stand out and play the perfect canvas to place bespoke furniture. The limestone was quarried in Portugal, while the Calacatta marble was flown in from Tuscany.
The same limestone and marble touches continue to the kitchen. The space is custom-designed by Italian artisans, and outfitted with top-notch appliances.
Highlights of the vast house include a 20-seat movie theater and wellness center, complete with an indoor spa and sauna.
At one end of the living room is an extended bar with a massive marble table resembling one solid block. Small blocks of wood that double up as bar stools complement the absoluteness of the bar, while playful pendant lights break the ponderosity of the space.
A large O-shaped sculpture sits at the back of the house, almost like its insignia, surrounded by extensive gardens and a full-size tennis court.
The infinity pool deserves its own crown for being the most serene zone in this sophisticated home. True to its name, the pool extends a total of 250 feet. It includes built-in recliners attached to a Baja sundeck providing uninterrupted panoramas of Santa Monica's skyline, the Pacific Ocean, and Catalina Island.
This beautiful $45 million home was recently renovated, which explains the price hike. Florence Mattar at Coldwell Banker holds the listing.
Source link