The crescent tip of Palm Jebel Ali will forever be the cynosure of Dubai as the $5 billion Moon destination resort occupies it. Michael R. Henderson, the co-founder of Canadian architectural company and intellectual property licensor Moon World Resorts, confirmed the same. The new Moon Resort is touted to stand 1000 feet tall and will be completed in the next 48 months. "Encompassing the Worlds largest sphere with a Diameter of 229 meters /
750ft. Incorporating 'The Private Residence at Moon Dubai' will see 500 luxury residential units, an exclusive and truly spectacular Private Members Club, a boutique 100 suite Six Star hotel, and our Five Star 4000 suite hotel," Henderson said.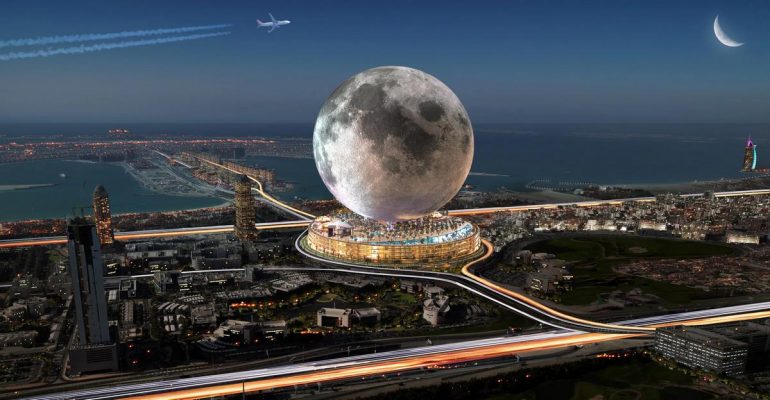 He added: "Additionally, 50 plus stunning integrated components await guests, including MOON's signature attraction delivering the unique ability to walk on the Lunar Surface while exploring an authentic Lunar Colony. Moon Dubai will welcome 10 million annual visitors; that's a lot of Astronauts." this $5 billion moon-shaped destination will also flaunt a spa, night club, events center, a 'moon shuttle,' and training services. Moon Dubai is also planning to incorporate 300 boutique units dubbed 'Sky Villas,' the owners will also win an exclusive private members club at Moon.
The location of Palm Jebel Ali is ideal as it is three times bigger than Palm Jumeirah, which is now already packed with hotels and residences. Henderson shared, "Moon Dubai will be the largest and most successful modern-day tourism project within the entire MENA region, doubling annual tourism visitations to Dubai based on its global appeal, brand awareness, and unique multiple integrated offerings. It can comfortably accommodate 10 million annual visitors.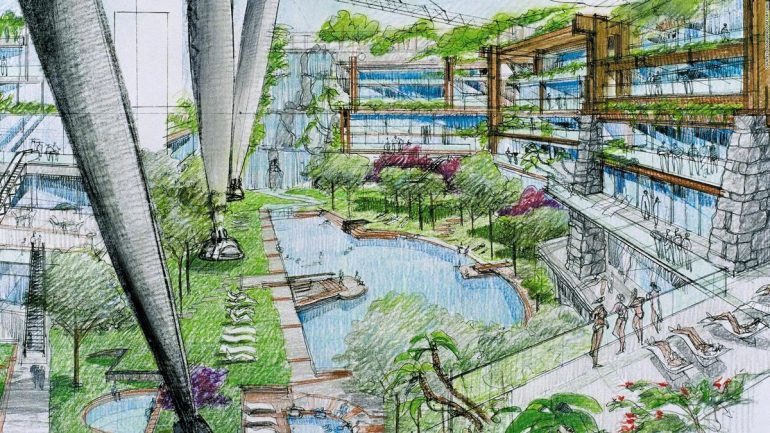 Moon Dubai will significantly impact every aspect of the emirate's economy, including tourism, transportation, commercial and residential real estate, infrastructure, financial services, aviation and space, energy, MICE, agriculture, technology, and of course, education. It will firmly plant the UAE flag into the forefront of space exploration."
Moon resort in Las Vegas-
Why should Sin City be left behind when it comes to an attraction that is loud, lovely, and luxurious? The glittering city known for its gambling scene is the perfect canvas to splash Michael R. Henderson & Sandra G. Matthews' vision on. Moon Resort Las Vegas will spread across 515,000 square meters of Leed-certified built environment. The striking Vegas Moon resort will also be a towering edifice 750 feet above ground level with a diameter of 650 feet. Akin to the Dubai counterpart, this property will also include multiple lounges, a massive convention space, nightclubs, and luxury suites. For a charge of $500, visitors can make the most of a 90-minute excursion on Moon's lunar surface to include exploration of its active lunar colony.
Source link