Plenty of action occurs in Amazon boss Jeff Bezos and fiance Lauren Sanchez's life. After sending ripples through the world on their engagement news aboard the $500 million superyacht Koru, the couple is back in the news with matrimonial home matters. As much as we enjoy watching the couple unwind on the world's second-largest sailing yacht, every holiday must come to an end. In the case of the former world's richest man with nearly $140 billion in the bank, life is a never-ending party.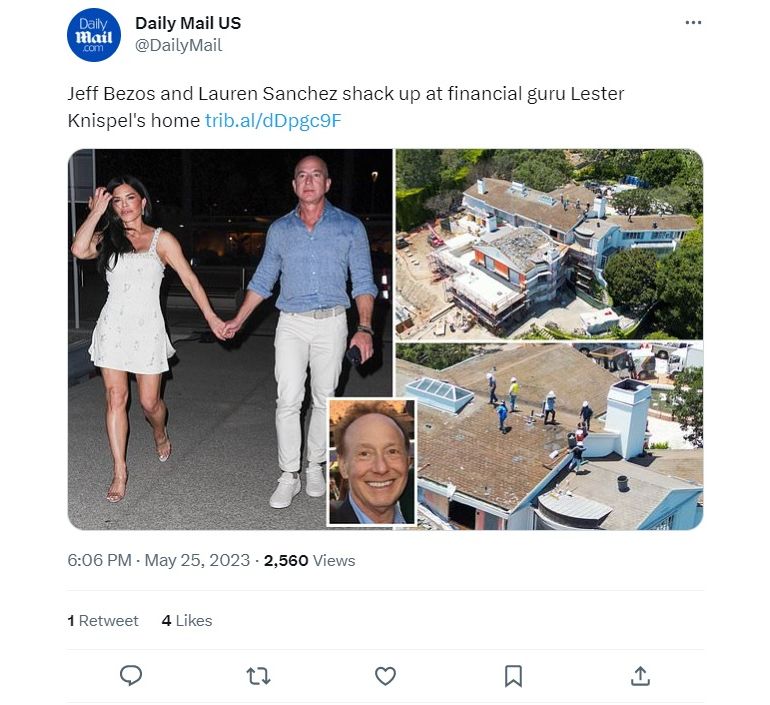 Post his European getaway, the couple will reportedly shack up at the Malibu compound of famed financial guru and Kardashian money manager Lester Knispel. The reason is their massive, magnificent Beverly Hills super estate is undergoing renovation to serve as the perfect marital home to Bezos and Lauren. With news of their impending nuptials, the couple will undoubtedly be thronged by paps as soon as they step back on US soil. This private beachfront home is a private oasis that will protect the couple from prying eyes and cameras as they prepare for their wedding.
The Beverly Hills mansion sits on a whopping 10-acre land. An elegant guest house, gym, pergola, and security guard house encompass the three-story manor. Per Page Six, a group of men were spotted working on the roof of the Californian mega-mansion. It was purchased by the centibillionaire in 2020 for a cool $175 million. The previous owner was former Warner Bros. President Jack Warner.
As far as Knispel's lavish home is concerned, it is quite the extravagant estate that will keep the couple comfortable till their love nest takes shape. With ocean views to wake up to, Sanchez and Bezos won't miss the azure views witnessed on the Koru megayacht.
Jeff Bezos's $78 million Hawaii home –
Why didn't Jeff Bezos opt to stay at his beautiful $78 million beachfront home in Maui, Hawaii, with the love of his life is a question only he can answer. One thing is certain; it is not for lack of luxury, convenience perhaps! The comparatively smaller yet terrific tropical estate in La Perouse Bay is isolated, surrounded by dormant lava fields, which is what the 'couple of the hour' needs more than anything. The home is nestled on a vast 14-acre complex with a huge 4,500 square feet main house, including three bedrooms and bathrooms.
It is sheathed in secrecy, so images are few. What is apparent is an outdoor kitchen with spectacular ocean views. The compound also features a 1,700-square-foot guesthouse flanked by smaller buildings and a circular, 700-square-foot swimming pool. Dozens of mature palm trees envelop the single-story structures.
Source link