When two greats come together, history is created. In the case of the Italian Sea Group, Admiral, founded in 1966, and acclaimed designer Giorgio Armani, history will float forever in the form of the striking 236-foot vessel. Designed entirely by Giorgio Armani, the superyacht was revealed at a star-studded gala at the shipyard's headquarters at Marina di Carrara. The voluptuous ship is one of two yachts in the series set for delivery in early 2024.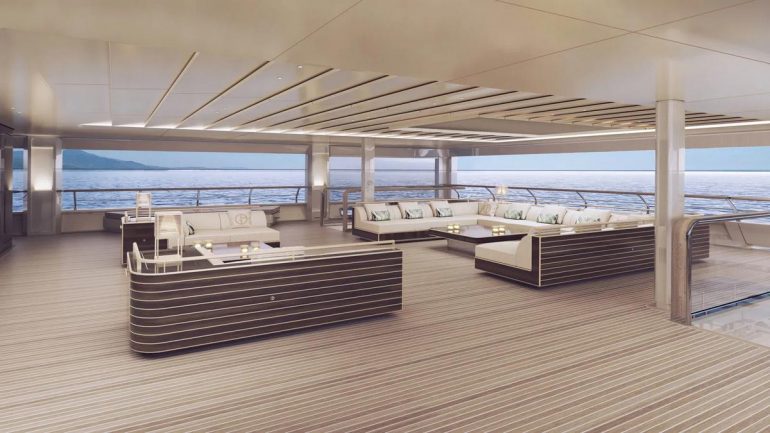 Armani's less is more philosophy comes to life in robust volumes, full-height openings, and instantly recognizable silhouettes. The interiors look as serene as the quiet seas making the most of a soft and minimalist palette. Polished marble floors with gold accents add a touch of glam, while the occasional use of dark wood creates a pleasing contrast.
"Giorgio Armani is synonymous with timeless elegance and sophistication, and his stylistic vision has also increased our stylistic sensitivity. This new yacht is projected to be positioned as a stylistic benchmark, given the countless comments and regards we've received from various industry players. This therefore confirms our business model, which aims to customize every detail in order to make each of our works absolutely unique, in line with the vision and desire of each owner," comments Giovanni Costantino, Founder & CEO of The Italian Sea Group.
The main saloon includes a formal dining area, which can be separated from the comfy seating for conversations after a hearty meal. The upper deck brags an enormous aft deck lounge, a beach club gym, and a massage room. The entire point of being on the sea is to enjoy being there, and Armani's yacht offers plenty of options to bond with the surrounding environment. "The sea and design are two of my greatest passions. With this new collaboration, I have extended my idea of furnishing and decor to the nautical world, in which – just as in fashion – aesthetics, and functionality come together in a natural and elegant style," said Giorgio Armani, Chairman and CEO of the Armani Group. "This highly stimulating project has allowed me to create customized spaces with Armani/Casa – like made-to-measure clothing – with the same craftsmanship applied to the choice of materials, details, and production." Of the two yachts being built, one is already bought by a crypto-tycoon from Greece. With the sky-high demand for yachts we are sure the second vessel will be sold sooner than later.
Giorgio Armani understands yachts better than most as the owner of not one but two great vessels, one being a $60 million chic warship. The 213 feet long Main motoryacht flaunts a military green exterior, a cinema, a gym, and interiors by the icon himself.
Source link